Franklin Farms, a division of Keystone Natural Holdings, has introduced the latest in its plant-based portfolio — a chickpea tempeh — following its range of chickpea-based tofu products launched in 2021.
Targeting those who are unable to consume soy for allergy reasons, veggie, vegan, and omnivores alike, the new tempeh recently launched at Price Chopper and Market 32 stores in the Northeast, as consumer interest in health issues combined with an increased appetite for novelty and variety continues to increase globally. The company states that, of the natural plant-based protein foods, legumes such as chickpeas, beans, and lentils are reported to be consumers' preferred ingredients, indicating a desire for familiar natural protein sources.
Healthy plant protein options
Starting its life two decades ago as a mushroom farm in Franklin, Connecticut, Franklin Farms offers a range of healthy meat replacement products such as veggie patties, meatless meatballs, tofu, seitan, tempeh, and vegan wraps. This May, it also launched vegan tuna products in Original and Jalapeño varieties, created with a blend of plant-based proteins.
Tempeh is traditionally made by fermenting cooked soybeans. During the fermentation process, the soybeans bind together to create a firm block-shaped cake. Franklin Farms explains that its Chickpea Tempeh is created through a similar process, though replacing soybeans with chickpeas to cater to those with soy-free dietary needs.
"Like our chickpea tofu, Franklin Farms Chickpea Tempeh is a highly versatile meal solution that can be prepared and enjoyed in a variety of cuisines," said Cindy Wong, Vice President of Sales, Franklin Farms. "Though both tofu and tempeh are versatile products and great sources of plant-based protein, there are some noticeable differences regarding the texture, mouthfeel, and flavor. For example, tempeh's texture is firmer and denser whereas tofu is a lot softer and has a smoother texture. Additionally, tempeh is typically heartier compared to tofu which can be virtually flavorless. When consumers are craving a richer flavor with a firm and heartier texture, Franklin Farms Chickpea Tempeh is sure to satisfy their taste buds!"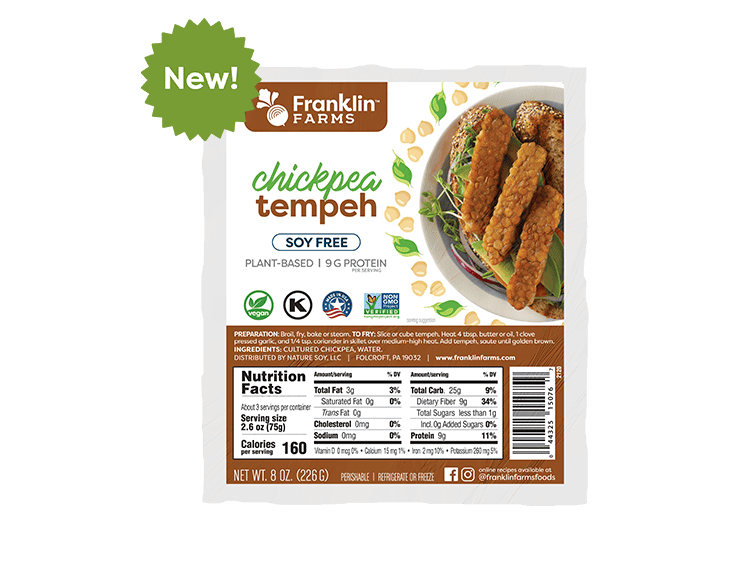 "Now, consumers can enjoy chickpeas in a new way with our latest plant-based offering, Franklin Farms Chickpea Tempeh," comments Kenny Sung, CEO of Keystone Natural Holdings. "With the success of our chickpea tofu and the rising number of people looking to diversify their plant-based diets, these innovative products are a perfect way to meet the needs of today's consumer. Our Chickpea Tempeh provides a delicious and unique plant-based eating experience while offering the various nutritious benefits of the powerhouse chickpea, including its naturally high levels of protein, fiber, and iron. We hope consumers will enjoy this additional plant-based meal alternative, that provides an option to those with soy allergies while capturing the versatility, benefits and familiar delicious taste of the chickpea."
"Our Chickpea Tempeh is an excellent option for individuals seeking healthier and balanced dietary choices," said Wong. "Formulated with just cultured chickpea and water, this product contains many essential vitamins and minerals. Chickpeas also make a good meat substitute helping to keep consumers feeling full and satisfied and have been found to help with lowering cholesterol in support of heart health and the reduced risk of heart disease."
Wong adds, "We believe that great-tasting, nutritious and allergen-free food options should be accessible to all. Our team is proud to introduce a product that is not only made from the highest quality ingredients but also aligns with our commitment to provide the world with flavor-forward and innovative plant-based foods."
To learn more about Franklin Farms go to http://www.franklinfarms.com.