Winter is coming in The US and news that Gardein and Upton's Naturals are both introducing a range of animal-free soups will be a comfort to many plantbased consumers in North America as well as the ever growing population of American flexitarians.
Gardein, which was the No. 2 plant-based player last year according to Euromonitor data, has already mastered a wide range of plant-based meat products, and this week classics like chicken noodle and beef and vegetable have been updated under the Conagra Brands subsidiary.
The five flavours in the Gardein soups collection are:
Plant-Based Chick'n Noodl' – made with plant-based chick'n vegan noodl's and vegetables; 13g protein
Plant-Based Be'f & Vegetable – made with plant-based be'f and country vegetables; 15g protein
Plant-Based Saus'ge Gumbo – made with plant-based saus'ge, rice and vegetables; 10g protein
Plant-Based Chick'n & Rice – made with plant-based chick'n, rice and vegetables; 11g protein
Plant-Based Minestrone & Saus'ge – made with plant-based Italian saus'ge, vegan noodl's and vegetables; 14g protein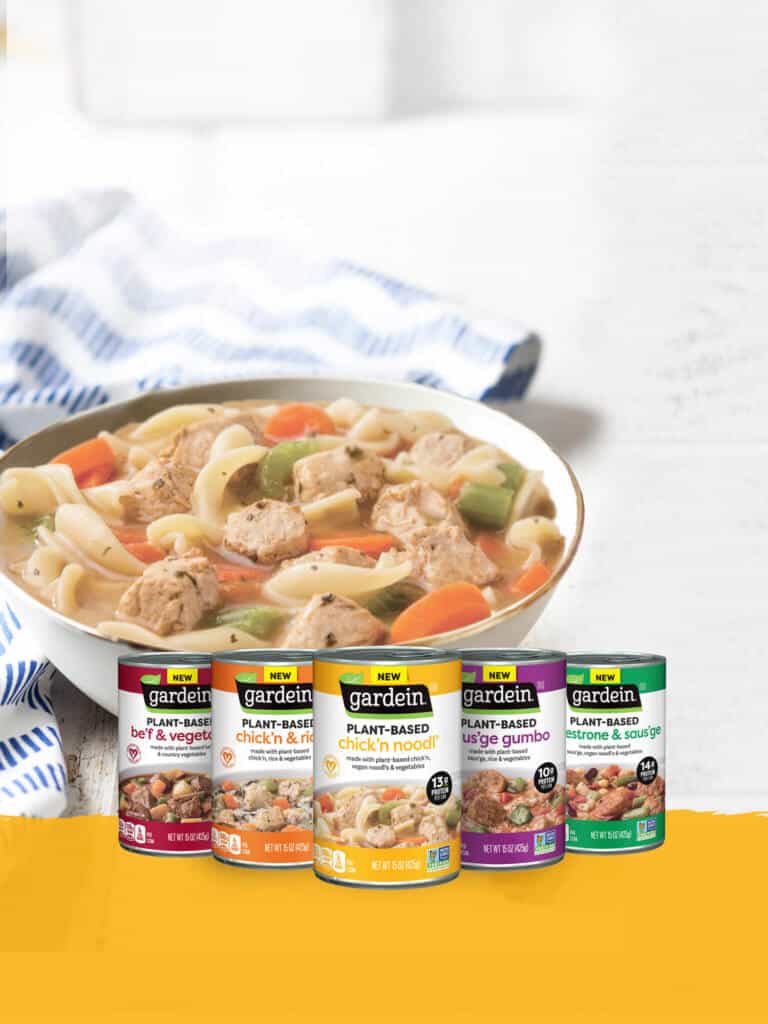 Tim Nangle, Conagra Brands' vice president and a general manager commented: "For years, Gardein has been providing delicious foods that deliver the taste of meat in a plant-based offering. With plant-based foods gaining broader acceptance, and with so many popular soups featuring meat on the market, extending Gardein into the soups category was a logical next step for the brand."
Using its proprietary seitan, Upton's Naturals has also released a line in vegan soups as follows:
Chick & Noodle Soup, featuring thyme, rosemary, carrots, celery, onion, rotini and hearty pieces of Chick Seitan.
Chick Tortilla Soup, featuring black beans, white corn and Chick Seitan, plus lime juice, chili pepper and paprika for a zesty kick.
Italian Wedding Soup, featuring Italian Seitan, pasta, spinach, garlic, fennel, thyme and rosemary.
"When creating new products for Upton's Naturals, we draw inspiration from a variety of places — our travels, nostalgia, best-sellers in our Chicago cafe, and in the case of our new soups, from our employees," said founder Dan Staackmann to Food Business News.
"During cold Midwestern winters, our team often adds our Seitan to their homemade soups, so we took that as a cue to try making some of our own favorite recipes. Unlike most options on the market today, our soups don't just happen to be vegan, they're designed with real, simple ingredients to provide wholesome nutrition and excellent taste to consumers following a plant-based or vegan diet."