Under its newly launched own brand, "Next Level Meat", Lidl is expanding its range of meat alternatives: from 2nd September, the food retailer will be permanently adding Next Level Mince to its vegan range, plus two ready-made vegan microwaveable convenience burgers as promotional items.
Based on vegetables, pea protein, wheat protein and soy protein, the plant-based mince and convenience burger come very close to the look, texture and taste of meat. The vegan mince is available in a 275-gram package for 2.99 euros and the 200-gram convenience burger for 1.99 euros each.
"At the beginning of August we introduced the first vegan burger patties under our own brand 'Next Level Meat' permanently in all Lidl stores and received a lot of positive feedback. With this customer response, it was the logical next step to offer more vegan products at the unbeatably low Lidl price to make alternative meat consumption simple and attractive. It will be particularly interesting to see how the plant-based hack is received in comparison to the popular meat variant. We are already working on further campaigns," explains Jan Bock, Purchasing Manager at Lidl Germany.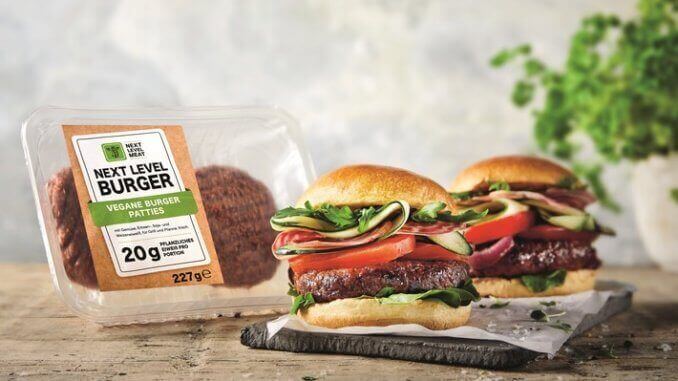 Next Level Meat" products packaged more sustainably in the future
Since the introduction of the Next Level patties, Lidl has worked to save plastic on packaging. Instead of a plastic two-piece pack, for example, the burger patties will in future lie in a cardboard tray coated with a thin peelable film and closed with a second thin film layer. All materials can be separated from each other and are recyclable.
The company Vefo from the animal breeding stronghold of Cloppenburg in Lower Saxony produces the Next Level Burger for Lidl, which has been available since 1 August. Two more Next Level Meat products with "Coming Soon" were announced on the website (which, however, as of 31.8, no longer shows any content), one of which could be nuggets. Vefo's managing director is Dr. Herbert Paschertz, the former managing director of the turkey group Heidemark.