US urban agricultural company Gotham Greens has launched a new line of plant-based dips, made with fresh greens and a creamy base of cauliflower and chickpeas.
The dips are:
Green Goddess — Made with basil, avocado, lemon juice, and parsley. This product is said to be the first branded Green Goddess dip on the market.
Spinach Artichoke — Spinach and artichokes combined with tahini, lemon juice, and parsley for a tangy flavour.
Tzatziki — A plant-based version of the traditionally yogurt-based dip, made with dill, cucumber, mint, and garlic.
Green Harissa — A spicy dip with cilantro, jalapeño, serrano peppers, red pepper flakes, coriander, cumin, and extra virgin olive oil.
With the markets for refrigerated dips and plant-based foods both rapidly expanding, Gotham Greens hopes its new products will provide a "unique and competitive edge" that will cater to consumers' evolving tastes.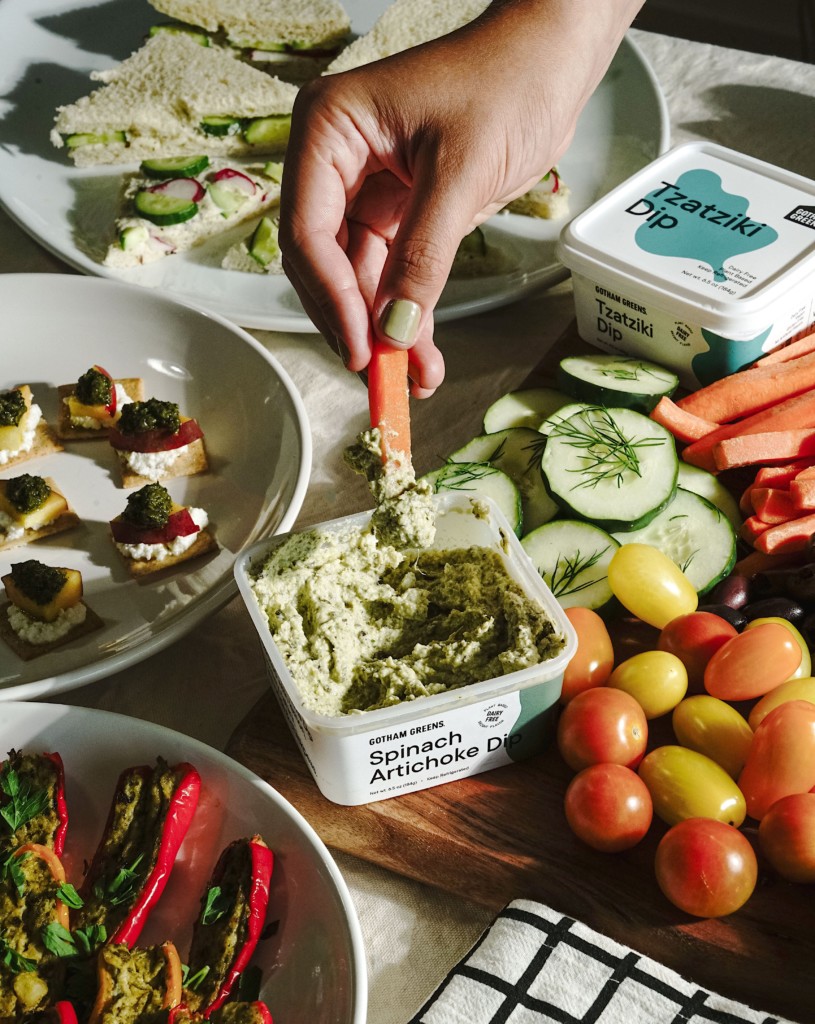 Urban agriculture
Gotham Greens operates indoor farms in several cities across the US, growing a variety of fresh herbs and leafy greens. The company's greenhouses are powered entirely by renewable energy and are said to use 95% less water and 97% less land than conventional farming. Gotham recently raised $310 million to expand its greenhouses nationwide, after launching plant-based ranch and caesar dressings last year.
The concept of urban farming is rapidly gaining in popularity as a way to disrupt the conventional food system. In Europe, Peas&Love is filling a similar role with vertical urban farms across Paris and Brussels, allowing customers to buy fresh locally-grown produce.
"Our team is very excited to introduce four beloved dips in an innovative, dairy-free format that is packed with plants and meets consumers where they are with a fresh option they'll reach for every time," said Viraj Puri, co-founder and CEO of Gotham Greens. "Dips are one of the most well-loved snacks due to their versatility and craveable flavors, yet as consumers evolve their dietary habits to reflect a more plant-based and flexitarian lifestyle, the category has not kept up with bringing delicious plant-based options to market."
The dips will launch at Whole Foods, FreshDirect, and more from this month.