The Planting Hope Company announces Hope and Seasame Sesamemilk is now available to Canadian consumers on Amazon.ca, as well as in leading natural grocery stores nationwide. The launch expands Hope and Sesame's distribution across Canada, including at key retailers in Quebec, British Columbia and Ontario.
"It's exciting to see our bilingual Canadian packaging gain such rapid traction"
On Amazon, customers can choose from four Hope & Sesame flavors, including its award-winning Barista Blend, now offered in bilingual packaging.
In natural grocers, customers can find the sesamemilk in shelf-stable packaging at 69 new stores, including Supermarch Pagano, Marches TAU and Avril Natural Market (Quebec), Ambrosia Natural Foods, Marcheleo's, and Natural Emporium (Ontario), and Pomme Natural Markets and Roots Natural (British Columbia.)
Expanding access
"We're thrilled to expand the availability of Hope and Sesame Sesamemilk to customers across Canada through both e-commerce and leading natural grocers," said Julia Stamberger, CEO and Co-founder of Planting Hope.
She added, "The leading online retailer in Canada, Amazon.ca, offers fast shipping across Canada and access to four Hope and Sesame Sesamemilk flavors. It's exciting to see our bilingual Canadian packaging gain such rapid traction from prominent Canadian retailers."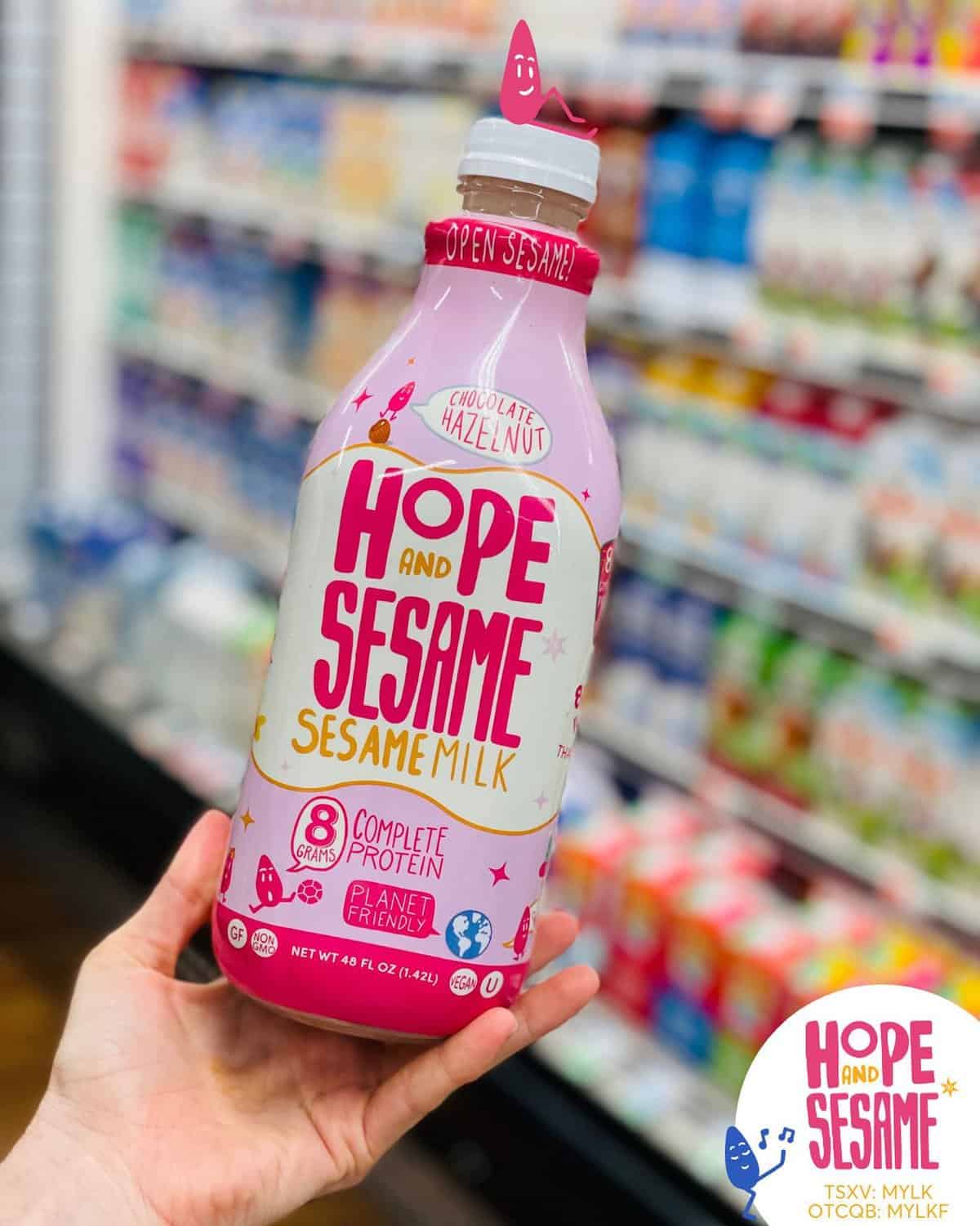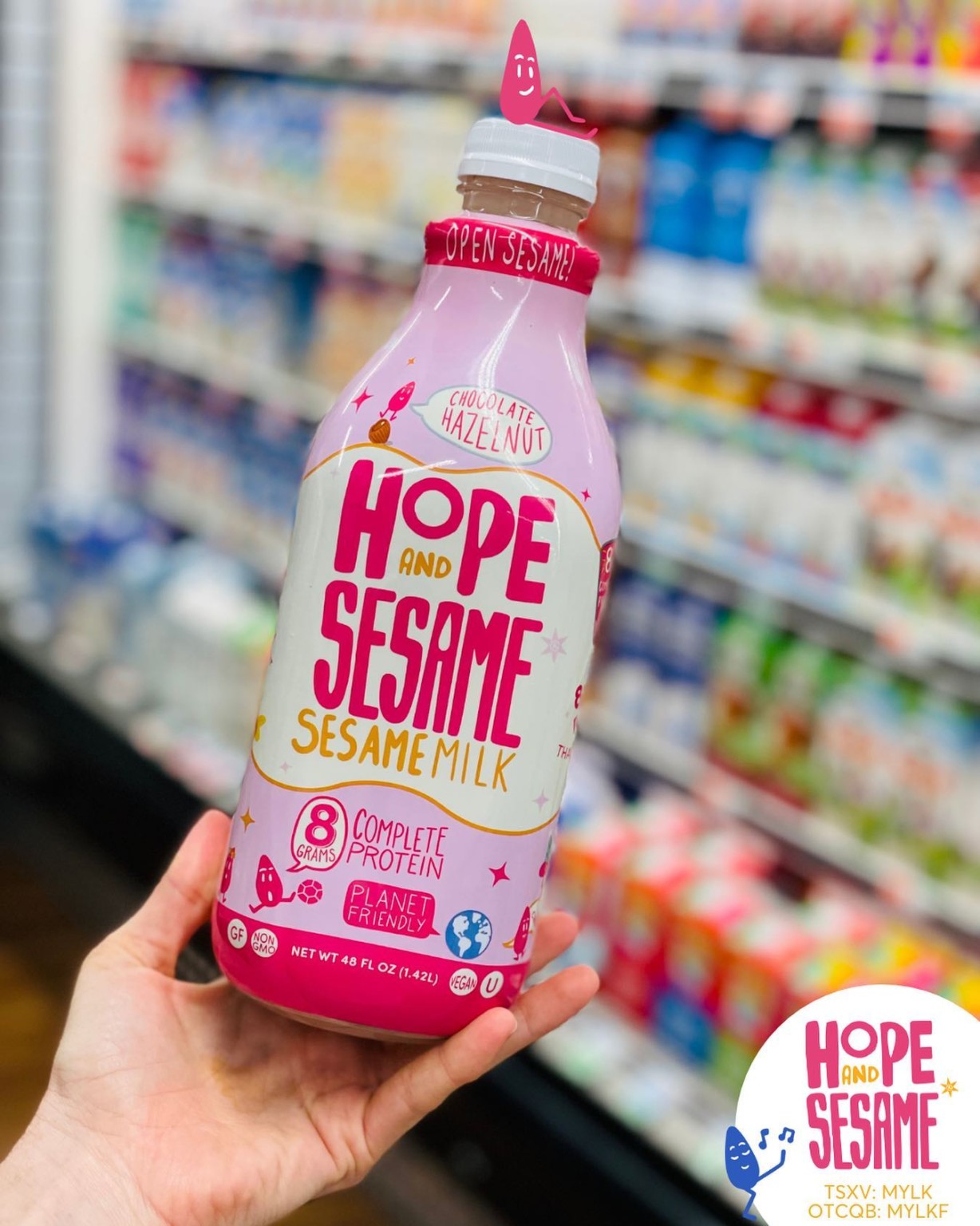 Dairy-like nutrition
Led by an all-female executive team, Hope and Sesame produces nutritious-dense milk alternatives from tiny sesame seeds. According to the brand, sesamemilk is nutritionally comparable to dairy, with 9 grams of complete protein per serving, and 30% more calcium. Sesamemilk also requires 75% less water than oat milk and 95% less water than almond milk to produce. Sesamemilk's core ingredient is the highly nutritious pulp sourced from sesame seed oil extraction.
All of Hope and Sesame's products are non-GMO, Kosher-certified, and free from soy and gluten ingredients. In 2021, the company completed a historic IPO on Canada's TSX-V market, selling 22.5M shares under the ticker symbol "MYLK."
"The Canadian population is roughly 10% of the size of the US, but the Canadian plant-based milk market is 20% of the size of the US market, representing CAD $600M in the grocery sector alone, and demonstrating a relatively broader embrace of plant-based products across Canadian consumers," says Stamberger. "Per a study from Plant Based Foods Association Canada, 80% of Canadians eat plant-based foods as a regular part of their diet and 67% say they consume plant-based foods 'frequently'."
"Revolutionary product"
In a 2022 interview with vegconomist, Stamberger stated, "Hope and Sesame sesamemilk is a revolutionary product in the plant milk space that meets the key interests of consumers embracing the plant-milk space: great nutrition, better sustainability, and excellent taste, and it performs in cooking and coffee in the same way consumers use dairy milk."