Today, California-based Impossible Foods announces the expansion of its best-selling portfolio with three new additions: Impossible™ Spicy Chicken Nuggets, Impossible™ Spicy Chicken Patties, and Impossible™ Chicken Tenders.
Impossible's new plant-based chicken flavors and the new chicken format will be available in the frozen aisle at select retail locations starting this month, followed by national availability in the coming months. Impossible Chicken Tenders will also be served nationwide in select food service locations.
The news comes just a day after Beyond Meat announced NPDs in the form of two new chicken products — burgers and schnitzels, in the Netherlands.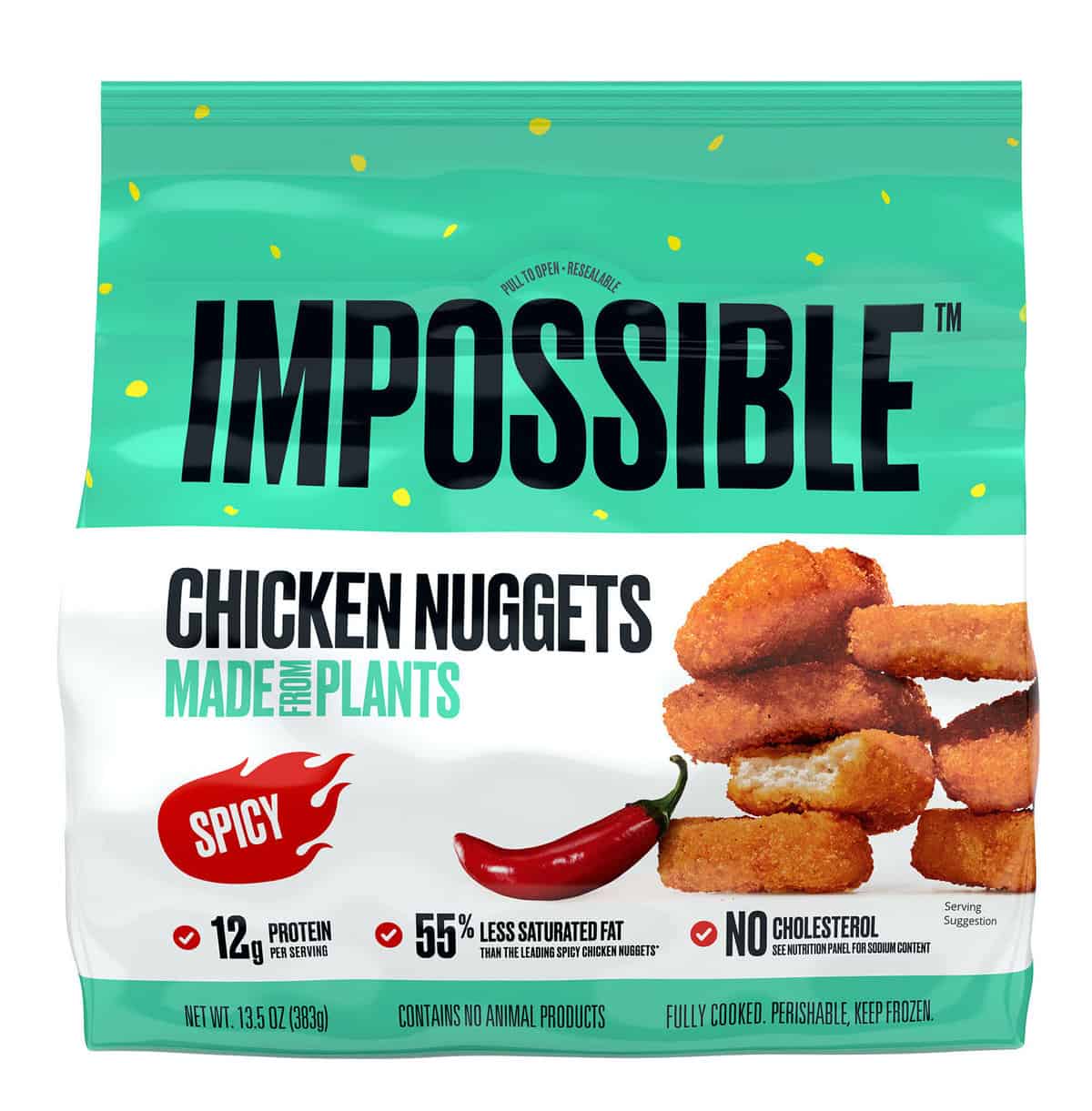 Impossible Spicy Chicken Nuggets and Impossible Spicy Chicken Patties come with blended spices that add hot notes to the brand's original plant-based chicken recipe. The new Impossible Chicken Tenders are elongated chicken pieces suitable for wraps, salads, and baskets.
"…our original nuggets are leading the plant-based chicken category in dollar sales"
All three products offer 10-12g protein per serving, no cholesterol, and up to 35% less total fat and up to 55% less saturated fat than their animal counterparts. They also have a significantly smaller environmental footprint than animal chicken, says the plant-based giant.
This launch marks an expansion of the brand's flagship and best-selling plant-based chicken portfolio after a year of uncertainty for the plant-based market and the global alt protein sector.
"Fastest-growing" plant meat brand in US
According to Impossible Foods, the company achieved record sales in 2022 and remains the fastest-growing plant-based meat brand in US retail stores. The company experienced more than 50% dollar sales growth last year, as reported at the beginning of the year. However, at the end of January, the brand announced plans to launch a major marketing campaign for 2023 and said the company was dealing with a challenging economic environment.
In the food service sector, its flagship Impossible beef product has been the best-selling product by volume of any plant-based meat brand in the US. Due to its success, the brand has unveiled a possible launch of a new alt-meat product soon.
"Our chicken products caught on fast with consumers, and they've served as a successful entry point to our brand," said Sherene Jagla, Chief Demand Officer at Impossible Foods.
"In retail, our original nuggets are leading the plant-based chicken category in dollar sales, and in food service, consumers prefer them to animal chicken nuggets. We're excited to expand on the platform's success, and we expect this category to continue to be valuable for our brand," she added.
Stay tuned for another Impossible Foods announcement coming next week.