SMPL, the new industry-defining functional snack brand, announce today the launch of three signature products in the new line of SMPL Wellness Snack Bites. Founder and CEO of SMPL, Ellis Fried, is on a mission to push the boundaries of functional, clean-label snacking with three signature products: Chill, Detox and Beauty Bites.
The new wellbeing snacks are functional blends of organic plant protein, superfoods and adaptogens which are said to help improve your daily mood and physical well-being.
"People are learning about the benefits of whole food, plant-based nutrition, and herbal adaptogens for stress relief, sleep support, beauty, gut repair, and clean living more than ever," said Fried. "My mission with SMPL is to simplify daily health and wellness by bringing functional ingredients into everyday snacking in a delicious, yet convenient grab-and-go format."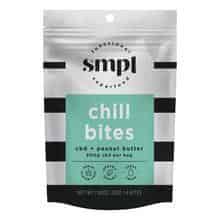 The snacks have a base of organic fruit, nuts, seeds, and himalayan pink sea salt that are then infused with unique blends in three varieties that focus on function:
• Beauty: Collagen + Cacao – Formulated with 3000mg collagen, lucuma, amla berry and chia seeds to support stronger hair and nails as well as improve skin elasticity and overall complexion.
• Chill: CBD + Peanut Butter – Formulated with 20mg CBD from organic hemp and ashwagandha to help the body maintain homeostasis as well as regulate stress and anxiety.
• Detox: Charcoal + Coconut – Formulated with vegan activated charcoal, organic pine pollen and chia seeds to help detoxify the body and improve your digestive health.
Non-GMO, gluten-free, paleo, and with no refined sugars, SMPL Wellness Snack Bites are available at finer grocers, hotels, and spas throughout New York City, including Exhale Spa, HigherDOSE, The Goods Mart, and Equinox Hotels. Ships nationally online ($48 SRP Chill, Detox, or Beauty 8-pack or $20 SRP Variety 3-pack).