Katjesgreenfood, a subsidiary of the Katjes Group, recently announced its investment in the vegan butter start-up Fora. According to the New York-based company, they have developed the world's first vegan and cholesterol-free butter, using basic, specially researched and innovative   ingredients.
Katjesgreenfood GmbH & Co. KG is one of the first food impact investors in the growing market for sustainable food in Europe, and invests in new food companies. The company's latest investment is a stake in Fora, expanding its portfolio of vegan companies. Katjesgreenfood is also involved with Seven Sundays and Veganz.
Fora was founded in 2017 by Aidan Altman and Andrew McClure; together, they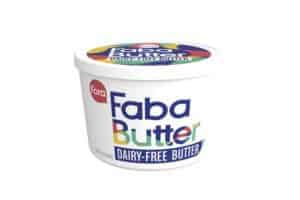 developed the first vegan and cholesterol-free butter, which they call FabaButter. The taste and texture are hardly distinguishable from conventional butter. The vegan alternative is made from aquafaba (the water from cooked chickpeas) and coconut. It is becoming increasingly popular as a plant-based protein substitute. Since the butter can be heated to high temperatures, it can also be used as a substitute when cooking and frying.
"It is the first plant-based product that really tastes like butter. With its sustainable philosophy, Fora will revolutionize the classic butter and margarine market," predicts Dr. Manon Sarah Littek, CEO of Katjesgreenfood.
The founders of Fora explain, "Raising a cow is costly in terms of land and water, and also pollutes our air. Fora generates four times less CO² compared to the production of dairy butter. However, we aren't just targeting vegans. We are particularly interested in appealing to flexitarians, who want to protect the environment and at the same time value quality and taste."