New drinks brand Doodles has partnered with vegan food distributor Bravura Foods with a first-to-market concept: lightly sparkling, low-sugar drinks in special "colour me cans" featuring characters and pictures that kids can colour, wipe clean and recolour with any crayons or coloured pens.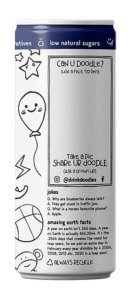 The new products were created by Alisha and Lee Eason – busy working eco-conscious parents who for years have been frustrated by the lack of healthy sparkling drinks available for their own children.
Alisha commented "We wanted to make something more accessible and fun to the younger audience. All the current sparkling drinks out there for children are high in sugar with dubious ingredients and added plastic straws. We just wanted to create a wholesome healthy drink in a fully recyclable can to allow them to have healthy drinks with an added twist of fun but at the same time also teaching them to look after the earth as the UKs fixation with single use plastic bottles seems to continue."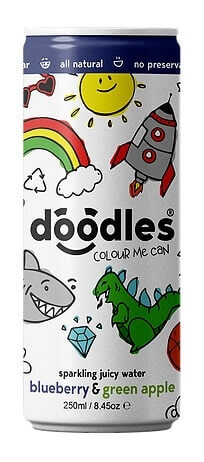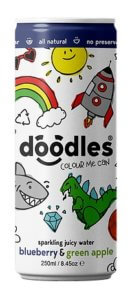 Three real fruit combinations will be launched – Apple & Blueberry, Pineapple & Mandarin and Peach & Mango. Each can only has between 2.2-2.4g of sugar and only 22 calories with no refined sugars or preservatives. The cans will be retailing on shelf between £1.20-£1.49 with a June launch planned for the health food sector.
Bravura Foods will be the exclusive distributor and brand partner and are already in talks with major wholesalers regarding ranging plans, in addition to focusing on a number of export interests. Karl Morris, Director at Bravura Foods adds "We absolutely love this brand, its so unique, fun and entertaining for young consumers and exactly what the market needs."
Fellow Director Lisa Gawthorne adds "I think it's a winning concept – to combine a fun activity with healthy hydration and it really has been a stagnant sector dominated by high sugar fizzy drinks for such a long time".