As early as 1993, TOPAS started to produce and promote meat and sausage alternatives based on organic wheat protein under the brand name Wheaty. Company founder Klaus Gaiser took up the Chinese-Japanese seitan tradition, but reinvented it for western tastes.
Once a natural food pioneer, the family-owned company now sells its products throughout Europe. Two new products were presented at BIOFACH – a TexMex Burger and Sucuk Cold Cuts – which, like all Wheaty products, are purely vegetable. Both products use wheat protein texture – which gives the products a great grainy structure and a meat-like bite.
The Tex-Mex cuisine combines elements of Texan and Mexican cuisine, is juicy like a typical American beef burger and tastes nice and spicy and slightly hot. The sucuk from Wheaty looks and tastes like the well-known Turkish garlic sausage – only that it is purely vegetable. Ready sliced, it can be fried or grilled, eaten as an appetizer, together with vegetables or in bread.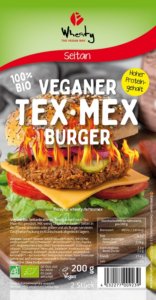 Progress with tradition
With its organic products, the manufacturer remains true to the roots of the tradition founded by Buddhist monks some 1500 years ago: to produce seitan, all you actually need is wheat, clear water, soy sauce and spices. "Our conviction is: in order to produce sustainable meat alternatives for now and the future, we do not need retorts or chemicals! But we are constantly expanding the Seitan tradition. With the new generation of Wheaty products, we have managed to develop innovative recipes and thus achieve textures never seen before," says Klaus Gaiser, who still personally develops all products.
For him, veganism is not a fad, but an appropriate response to the global ecological crisis: "The animal industry is the biggest polluter of all. Today, even established organizations such as the United Nations therefore point to the urgent need for a fundamental global change in diet away from animal products". For the company it is a self-commitment to act consistently sustainable – the Wheaty promise is: no natural environment is destroyed for the extraction of raw materials; neither are virgin forests cut down for this purpose, nor are human rights violated, nor are long transport routes used.
More information at www.wheaty.com