Nibble Brownie Bites
, the award-winning premium healthy snack launched by
Nibble Protein
, is launching in Sainsbury's "TASTE OF THE FUTURE" bay in selected stores this week. With on average 45% less sugar than other leading brands, Nibble Brownie Bites have been designed to appeal to those looking for healthy, lower sugar,
protein snacks
but with a sweet taste.
For the first time in
Sainsbury's
150-year history, the supermarket is launching a fully dedicated, branded "TASTE OF THE FUTURE" bay to promote innovative ambient brands. Sainsbury's has offered a 12-week trial to these promising food start-ups, with a view to offering them a listing after the trial. Nibble is one of eleven diverse brands launching this June as part of the new
Future Brands
initiative.
The full range of Nibble Bites will launch at the bay: CHOC ORANGE BROWNIE with 72% dark chocolate chips (winner of the Silver Free From Food Best Snack Bar Award 2019); MINT CHOC BROWNIE with cacao nibs, made with the mint oil and cacao nibs; and CHOC WALNUT BROWNIE with walnut pieces, smooth chocolate and a hint of vanilla.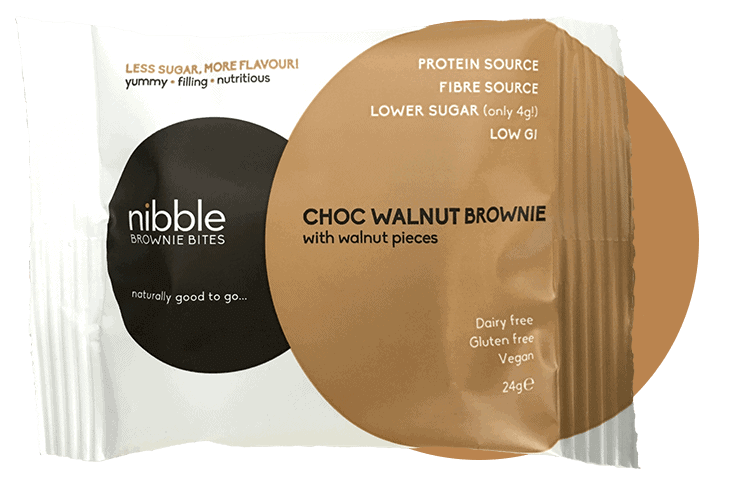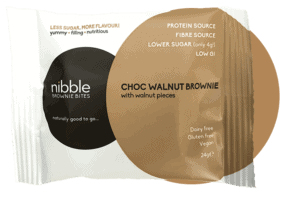 Made with antioxidant-rich dried plum purée, Nibble's vegan bite-sized brownies contain 1g of sugar per piece, contain on average 18% protein and carry under 100 calories a pack.
Nibble founder, Erin Moroney says,"We're really excited to launch in Sainsbury's. As a young brand, it's such an amazing opportunity and we're so grateful to the Future Brands team for their perseverance and forward-thinking!"
Nibble Brownie bites are now available in the Sainsbury's Taste of the Future bay (RRP £1.49).