7-Eleven Hawaii has partnered with plant-based meat brand OmniFoods to launch a plant-based version of the Japanese dish katsu musubi.
The product is made with OMNI Luncheon, a high-fiber plant-based pork alternative made from soy, wheat, and beets. The meat alternative is prepared katsu-style and placed on rice, before being wrapped in nori.
The katsu musubi is now available at all 66 7-Eleven locations on the Hawaiian islands of Oahu, Kauai, Maui, and Hawaii Island.
"We are thrilled to partner with OmniFoods to offer our customers a new, plant-based option that is not only delicious but also healthier for them and the planet," said Debbie Lee Soon, Food Innovation & Development Manager at 7-Eleven Hawaii. "The plant-based Katsu Musubi is a great addition to our menu and reflects our commitment to providing innovative and high-quality products to our customers."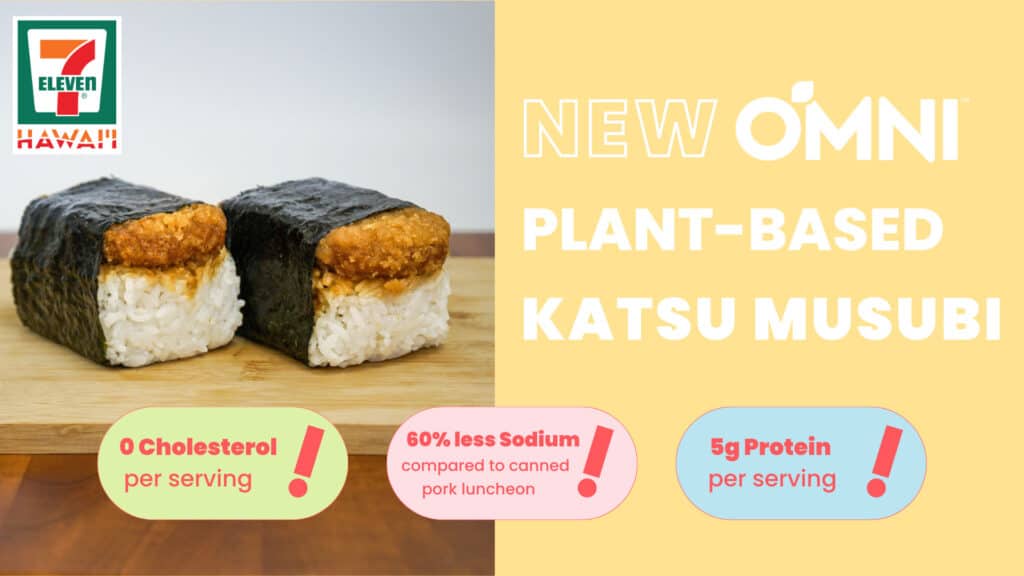 "Delicious and sustainable"
OMNI Luncheon made its debut three years ago in East Asia, where the majority of consumers eat luncheon meat at least once a month. In response to huge consumer demand, the product launched for retail a few months later.
OMNI Luncheon then arrived in the US in 2021, rolling out at hundreds of Sprouts and Whole Foods stores nationwide. Last year, OmniFoods' products became available via Dot Foods, North America's biggest food redistributor.
"We are excited to partner with 7-Eleven Hawaii to bring our OMNI plant-based Katsu Musubi to customers across Hawaii," said David Yeung, co-founder and CEO of OmniFoods. "Our mission is to provide delicious and sustainable plant-based alternatives to the public, and we believe that this partnership with 7-Eleven Hawaii is a great step towards achieving our mission."