Outstanding Foods, creator and innovator of "tasty as hell plant-based foods", starts 2020 with a brand new product lineup chef-crafted by Dave Anderson, creator of the Beyond Burger – Pigless Pork Rinds.
The brainchild of veteran entrepreneur Bill Glaser and renowned chef Dave Anderson, Outstanding Foods – known for their highly acclaimed, celebrity-backed debut product PigOut Chips, now introduces PigOut® Pigless® Pork Rinds to the better-for-you marketplace, which will officially launch to the public on February 7, 2020.
The new rinds are available in four flavors, Original, Nacho Cheese, Hella Hot, and Texas BBQ. Each 3.5 ounce bag is packed with 25 grams of plant-based protein and free from gluten, soy, GMOs, cholesterol and trans fats. They're also certified vegan and kosher.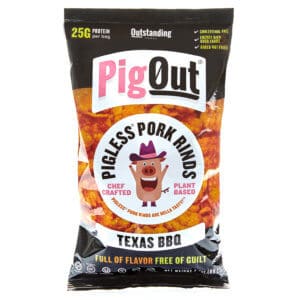 "I'm really excited about our pigless pork rinds – I honestly cannot stop eating them. Of all the products that I've had a hand in creating, these are definitely the most craveable." – Chef Dave Anderson, co-founder and Executive Chef
"We've all bought a bag of chips with the intention of having just a few. Fast forward to an empty bag and a guilty aftertaste full of fat and salt, but no nutrition. Our PigOut Rinds have solved this problem. Now you can enjoy a salty, savory snack that's packed with flavor AND nutrition! With a whopping 25 grams of protein in every full size bag, you can PigOut with zero guilt."  – Bill Glaser, co-founder and CEO
Since day one, there's been an impressive roster of celebrity investors that believe in the groundbreaking company's continued momentum, from professional athletes to prominent entrepreneurs.
The new PigOut Pigless Pork Rinds will be available from February 7, 2020 at www.outstandingfoods.com, retailing at $3.99 (3.5oz) and $1.79 (1oz) per bag.