Sophie's Kitchen — one of the pioneers of plant-based seafood – has for the past decade been producing vegan seafood products that are soy-free and gluten-free, setting them apart from their competitors. This week the popular brand announces the expansion of two of its top-selling products at select Walmart stores nationwide.
Two of Sophie's Kitchen's most popular products – the Vegan Crab Cakes and Vegan Breaded Shrimp – are available in the frozen section at 400 Walmart stores across the USA as of this weekend, as Sophie's Kitchen continues to grow its reach and offerings.
While Beyond Meat and Impossible Foods lead the way for plant-based beef, Sophie's Kitchen meets the demand for innovative plant-based seafood options. The vegan Crab Cakes and Vegan Breaded Shrimp are free from GMO's, soy and gluten and are made without lab-grown ingredients, colors, fillers, or added sugar.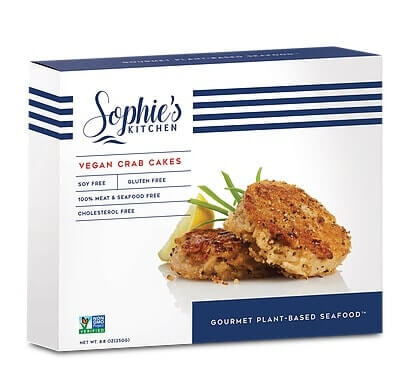 CEO Miles Woodruff says, "We're incredibly excited to introduce our plant-based seafood offerings to Walmart shoppers. As the plant-based movement continues to grow, we're hopeful that meatless alternatives become easier to find at affordable prices. Our crab cakes and breaded shrimp are two of our top selling products and we're thrilled to see them enter Walmart's frozen section."
Click here to read Miles Woodruff's interview with vegconomist and here for his recent Op-Ed for us on the rise of plantbased seafood.