The Koji fungus is a Japanese superfood, high in protein and typically used in Michelin Star restaurants and both grown and harvested by the brand in Berkeley, CA.
Prime Roots started life as Terramino Foods which received $4.25 million in 2018 when its initial focus was on plant-based seafood, later it rebranded to Prime Roots whose first product was its famous fungus-based vegan bacon.
The new range consists of:

Koji Bacon Mac and Cheese: A homestyle classic made with a rich and creamy plant-based cheese sauce and topped with Prime Roots bacon.
Koji Bacon Kale Quinoa Bowl: A nutrient-packed salad full of fresh kale and pickled red onions with a light agave-balsamic vinaigrette. A "healthy indulgence for salad lovers and bacon lovers."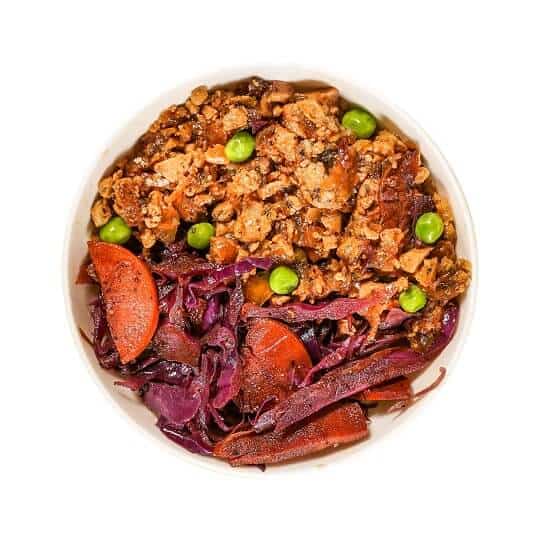 Koji Beef Thai Lemongrass Larb: A signature Thai dish packed with koji meaty "beef" crumbles with fresh cabbage and carrots over a bed of brown rice. Made with aromatic mint and fresh Asian spices like ginger and lemongrass.
Hawaiian Shoyu Koji Chicken: Meatless Shoyu Chicken is a unique blend of umami-rich protein, crunchy vegetables, and brown rice. Drizzled with a tamari-balsamic glaze for a balance of sweet and savory.
Kung Pao Koji Chicken: Umami-rich Kung Pao Chicken rice bowl packed with protein and fiber and sprinkled with crunchy roasted peanuts and a lively sweet tangy and spicy Kung Pao sauce.
Bok Choy Koji Soba: Buckwheat soba and Koji crumbles noodles with a tangy spicy sauce.
"We are delighted to give our community and consumers a convenient delicious way to experience the superior quality and taste of Prime Roots meats and seafoods," says Prime Roots co-founder and CEO, Kimberlie Le. "We are reimagining meat for people and the planet and excited to have mission-aligned partners including Whole Foods on our journey to making a more sustainable food system."
Stay tuned for our second interview with Prime Roots founder Kimberlie Le this Thursday.