British savoury pie brand Pukka has launched its first-ever vegan options. The Vegan Minced Steak & Onion and Vegan Chicken & Mushroom pies will be available at Sainsbury's from the end of September.
The pies are made with soy protein and Pukka's 144-layer puff pastry. The Minced Steak & Onion pie also contains gravy and onions, while the Chicken & Mushroom pie is made with a creamy sauce and sliced mushrooms.
Both products have been certified as vegan by the Vegetarian Society. They will initially launch at Sainsbury's at the end of September, spreading to other major supermarkets over the next few months. The pies will retail for £1.89 each.
Pukka joins an increasing number of traditionally meat-based bakery brands in the UK which have launched vegan options over the last two years. High street bakery chain Greggs famously launched a highly successful vegan sausage roll, pasty brand Ginsters developed vegan pasties, and Fray Bentos launched a vegan steak and kidney pie. Vegetarian pie brand Clive's also went entirely vegan earlier this year.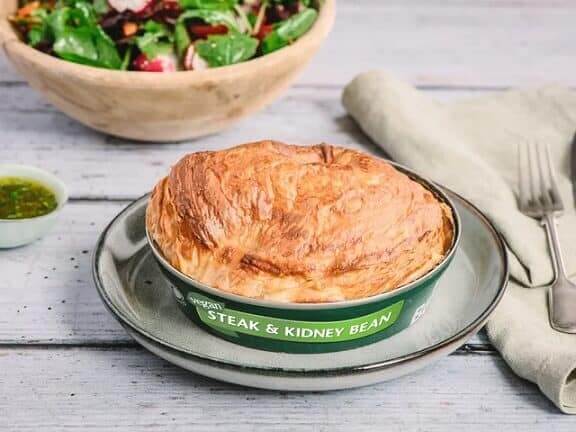 "As the People's Pie, we want to make sure there's a Pukka for everyone. Shoppers are increasingly looking for tasty meat-free options but don't necessarily want to spend hours cooking," Rachel Cranston, Head of Marketing at Pukka, told Vegan Food & Living. "Our two vegan pies tick both these boxes and they're an exciting addition to our well-loved range, with recipes people recognise and know Pukka for."