Virginia based Van Cleve Seafood Company has announces the launch of a new frozen food brand, Wild.Skinny.Clean which includes Plant-based Crab-less Cake and Plant-based Pink Shrimp "made from Superfoods, not soy," as part of its mission to create "Food as Medicine."
The all female and family owned company says the new healthy line is part of a revolution brewing across America where people are taking charge of their health and wellbeing. The range has been launched as part of current food trends which are gravitating towards functional foods with the desire to heal themselves with food, not drugs.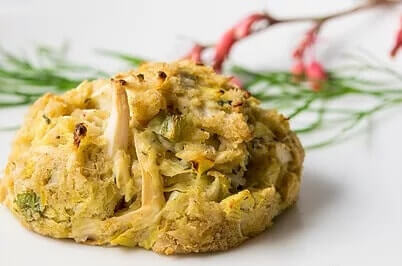 Wild.Skinny.Clean debuts with the vegan crabcake and vegan shrimp, and the whole range is low in calories and unhealthy fats, and can be prepared in under 15 minutes.
"This origin of this line, like most great products, was born from necessity. I aim to live a clean lifestyle every day for me and my family but it is so hard with the lack of convenient and truly healthy, healing foods on the shelves. We created Wild.Skinny.Clean. to give consumers more options, making it easier to live a healthier, happier life!" says co-owner, Monica Van Cleve-Talbert.

"Seafood is the some of the leanest, healthiest protein you can eat, not to mention the health benefits that come from the powerful Omega 3 fatty acids. They can do magical things for your mind, body and well-being and we plan to enlighten consumers about these benefits," she adds.
Wild.Skinny.Clean's Plant-Based Crab(less) Cake and Shrimp items are catering to the growing demand for plant based alternatives to current protein options. "We see the trend turning into more of a movement and wanted to create something to satisfy everybody. Since we know seafood so well, who better than us to create the plant-based alternatives that taste just like the real thing?" said Shelly Van Cleve, co-owner and VP of Product Development.
Wild.Skinny.Clean says its USP is that its plant-based items are healthy, promising no soy or hidden chemicals. "We're staying true to the line's mantra of healthy and healing- what good is eating plant-based if it's not good for you?" added Shelly. "Our plant-based products are made from superfoods and were created in a kitchen, not a lab."