Spanish plant-based meat brand Heura, one of the top two most popular plant-based meat brands in Europe, has this week launched in the UK where consumers can now purchase the brand's popular 100% vegetable original Chicken Bites, Mediterranean Chicken Bites, and strips.
The UK's plant based market is expected to reach £1.1 billion by 2023, according to Mintel. In terms of recent progress in the British market just in the past weeks: Beyond Meat is expected to roll out into McDonald's UK; restaurants and fast food outlets which introduce vegan options are consistently selling out around the country; supermarket chain ASDA has introduced the first vegan aisle in the UK; 16% of supermarket ready meals are now plantbased; and a Chef's Pencil survey showed the UK to be the most popular part of the world for veganism in terms of Google search trends.
Heura's plant-based chicken consists of European soy, olive oil, salt, and spices. It contains the same amount of protein as traditional chicken, with only a third of the fat. The brand has seen growth of 460% in the last year and already has presence in nine countries, including Spain, Andorra, Portugal, France, the Netherlands, Singapore, Hong Kong, and Chile.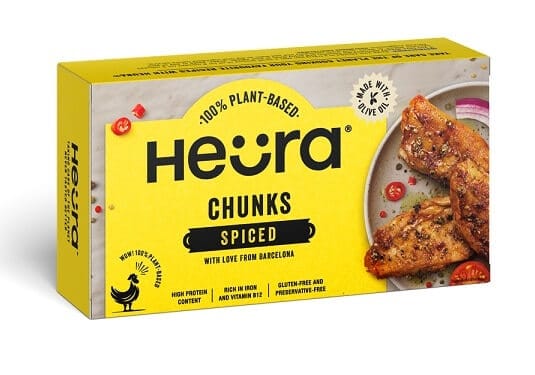 Marc Coloma, CEO and co-founder of Heura, said: "The UK is the fastest-growing plant-based food market in Europe, and coupled with Heura's growth it means this is the right time for us to enter the UK market. We trust in the outstanding nutritional value of our products: our products have a clean label, are among the healthiest available, and our Mediterranean heritage means that we are the only plant-based meat made with olive oil."
Heura products are now available to UK consumers through The VeganKind and Planet Organic.