Two female entrepreneurs are taking down sugar with revolutionary monk fruit simple syrup. Launched at the end of last month, Swoon is the first-of-its-kind liquid sugar substitute that gets its natural sweetness from monk fruit.
Swoon is said to taste, behave, and feel like sugar in terms of sweetness, viscosity, and mouthfeel, but without the health implications. Swoon is the only zero sugar syrup with monk fruit without sugar alcohols on the market. The brand has tested Swoon with bartenders (e.g., at Catch and Eleven Madison Park), baristas (e.g., at Bluestone Lane and Café Clover), and nutritionists to formulate the liquid sugar substitute.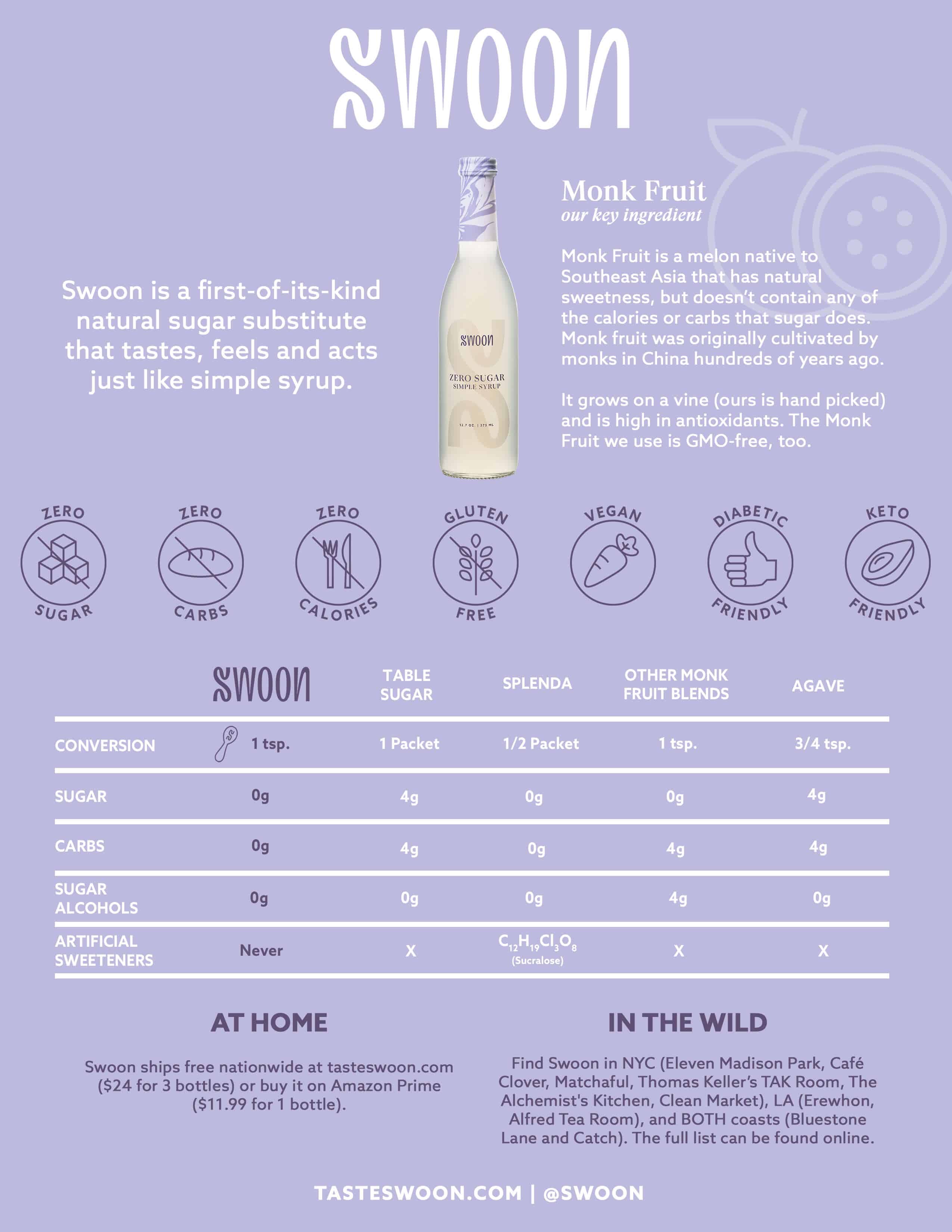 On average, Americans consume around 82 grams of added sugar per day, which is over double the amount recommended by the American Heart Association (AHA), with the majority coming from sugary beverages. Founders Jennifer Ross, who has suffered from Type 1 Diabetes since she was a kid, and good friend Cristina Ros Blankfein are on a mission to take down sugar and make the sweetness of monk fruit accessible and approachable for everyone.


"We use monk fruit, a naturally sweet melon native to Southeast Asia handpicked from vines and high in antioxidants, because not only is it zero calories, but it's also naturally sweet and doesn't raise blood glucose levels," said Swoon co-founder Jen Ross. "We wanted to come up with a product that had zero sugar and zero calories but was still natural – without having to settle for artificial sweeteners like aspartame or sugar alcohols, which can sometimes be difficult to digest."
Keto-friendly, paleo-friendly, gluten-free, and vegan, Swoon is available for shipping nationwide on tasteswoon.com (3 bottles/$24 MSRP) and Amazon (1 bottle/$11.99). Swoon can also be found at notable spots in New York City (Eleven Madison Park, Café Clover, Matchaful, Thomas Keller's TAK Room, The Alchemist's Kitchen, Clean Market), Los Angeles (Erewhon, Alfred Tea Room), and bicoastal spots (Bluestone Lane and Catch).