US retail chain Target announces it is partnering with superstar influencer Tabitha Brown to launch the Tabitha Brown for Target Vegan Food and Kitchen Collection. The limited-time collection features nearly 100 items covering grocery, tableware, linens, food storage and cookware.
Debuting January 8th, Brown's vegan grocery range includes 40 different selections of plant-based meats, spreads, pasta, snacks and more. The extensive collection includes:
BBQ Seasoned Patties

Garlic Plant-Based Patties

Plant-Based Sausage with Mushrooms

Sausage w/ Jalapeño & Cilantro

Sausage w/ Mango, Basil & Cilantro

Strawberry Cream Cheese

Caramelized Onion Cream Cheese

Garlic Cream Cheese

Cilantro Lime Aioli

Spicy Cilantro Garlic Spread

Truffle Garlic Spread

Roasted Garlic & Parmesan Organic Popcorn

Vegan Potato Salad

Garlic Pasta Salad

Vegan Pizza Ravioli

Polenta & Wild Mushroom Ravioli

Vegan Chickpea Chili

Butternut Squash Bisque
Brown, an actress, vegan advocate and social media phenomenon, previously partnered with Target in 2022 on a clothing and home decor line.
"Our guests love what we've done in our partnership with Tabitha Brown, and I can't wait for them to see this new collection – featuring vegan food items, refrigerated foods, meal solutions, and a range of kitchen and tabletop essentials," said Jill Sando, executive vice president, and chief merchandising officer for Target. "Tabitha's cooking has brought joy to countless people, and you can see how this collection is incredibly close to her heart. There's just so much here to help our guests bring nourishment and joy to their friends and family."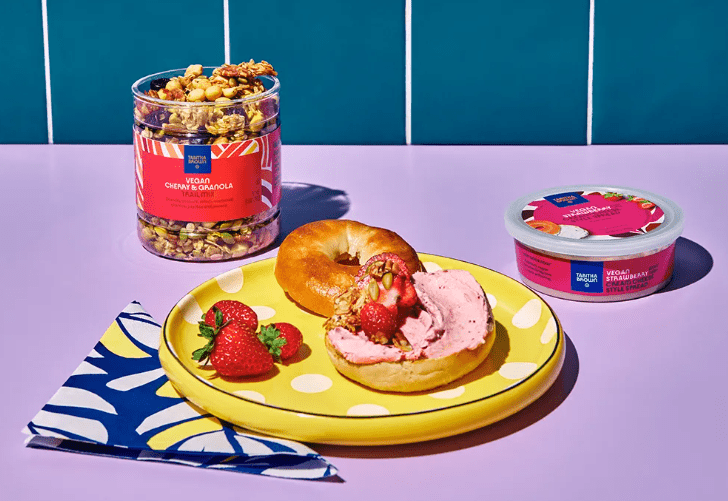 Tab-approved
Known for her cheerful personality and entertaining cooking videos, Brown has become one of the most popular spokespersons for the plant-based lifestyle. In 2021, she released the bestselling cookbook "Feeding the Soul", and recently starred in the YouTube children's series Tab Time. Brown regularly showcases her favorite plant-based restaurants and products to over 4M followers on Instagram.
"Bringing people together over food makes my heart full, and I feel blessed to continue spreading nourishment and joy to Target's guests," shared Brown. "My goal for this third collection is to deliver Tab-approved vegan food options that taste good and feel good for the soul and entertaining tools and essentials to help spread the love during mealtime with loved ones. I want to encourage y'all to be more intentional with what you feed your body so you can go on and shine your way. Set your table, set your intentions."