Meat processors all around the world are waking up to plant-based, not only do they seemingly realise the ever-increasing demand for vegan meats, but surely they must also be looking to the not distant future and seeing that this is the only sustainable way forward, both for profitability and the planet.
Here we look at three major producers of pork sausages which are launching plantbased products this week.
Richmond
Food giant Kerry Group's own-brand Richmond, best known for pork sausages in the UK, just launched its first vegan burger patties. Following Richmond's initial step into the plant-based sector with its Meat-Free Sausage earlier this year, this is the second vegan product offered by the meat brand.
Irish Dairy Giant Kerry first entered the plant-based sector in 2018. Since then, the industry leader launched its own brand, Naked Glory, dedicated to the production of vegan meat alternatives. In April 2020, Kerry also began equipping its meat brand Richmond with vegan alternatives and ranked fifth on FAIRR list as a proactive player in the plant-based sector in July.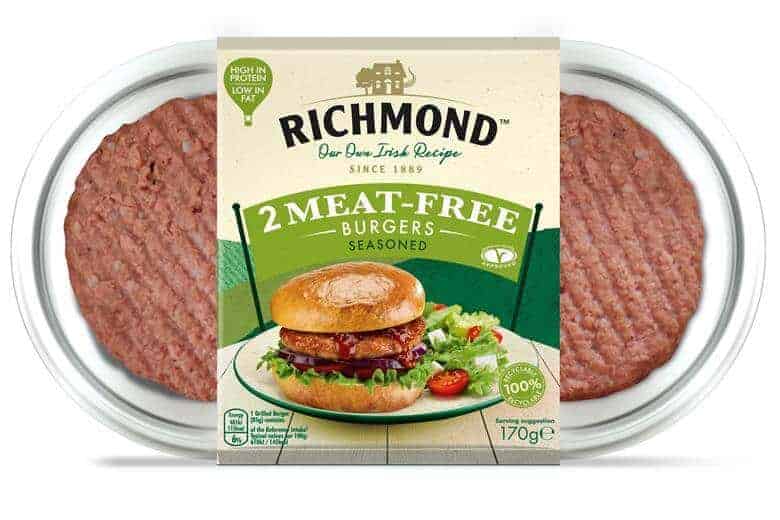 Speaking about the expansion of Richmond's plant-based meat range, Victoria Southern, category & marketing director at Kerry Foods, told Plant Based News: "Given the roaring success of our Meat-Free Sausages we're really excited to be expanding our range even further to ensure we can cater to a whole variety of mealtime occasions and we're confident our Meat-Free Burgers will be a hit with shoppers looking to moderate their meat intake and with those looking to try something new from the Richmond brand."
The new burgers, made from soy and wheat protein, are available in Asda and Sainsbury's in the UK.
Finnebrogue
Ireland's leading sausage producer Finnebrogue Artisan is launching plantbased bacon at 600 Tesco stores in the UK, branded as Naked "Without the Oink" Bacon and sold in packs of 10 "rashers" as part of its Naked meat line, launched in May with existing products burgers, meatballs, and sausages.
Pure Farmland
Pure Farmland is the plantbased arm of Smithfield, which launched last summer. Smithfeld Foods is a $15 billion global food company and the world's largest pork processor and hog producer. Interestingly, Pure Farmland is using the tagline, "Grown on the farm, not the lab" for its new plantbased products, reminiscent of Lighlife's recent attack on Beyond Meat and Impossible Foods.

Pure Farmland now launches three Plant-Based Sausage Links which are reportedly now available at SELECT RETAILERS to join the existing plant portfolio of meatballs, patties, and grounds.