Poultry producers Tyson, which sold its shares in Beyond Meat this April in to launch its own brand in plant protein in an apparent bid to rival Beyond, has announced its chickenless nuggets will be available in 4000 retail stores and from foodservice distribution by the end of September. Shares have increased by 7% in Monday trading following the news.
The processed food giant, whose subsidiaries include Hillshire Farms, Jimmy Dean and Ball Park, launched the nuggets this June with additional plans for burgers, sausages and meatballs, making it the largest US meat producer to launch its own products to the plant protein market. In our related article here vegconomist discussed the fact that the nuggets in fact contain egg whites and as such are not suitable for vegans.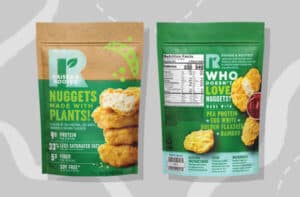 Tyson's plantbased line Raised & Rooted was created as part of its attempt to appear more sustainable. Back in April the company stated to CNBC: "Tyson Foods continues to be committed to providing alternative protein as a choice for consumers and recently announced the creation of a new business focused on combining our creativity, scale and resources to make great tasting protein alternatives more accessible for everyone. We plan to launch an alternative protein product soon with market testing anticipated this summer."
CEO Noel White stated in relation to the quick rollout, "This kind of quick start demonstrates the capabilities and scale and national reach of Tyson Foods," adding that the products will roll out internationally at a later stage.
Meanwhile, Tyson has also received a subpoena from the Justice Department due to allegations of chicken price manipulation.