Simply V is revolutionising the market for dairy alternatives thanks to new technology and a sophisticated manufacturing process. From October, the startup will be offering "Simply V Fresh Pleasure", a worldwide unique vegetable quark alternative with almond protein and only six other ingredients.
The new product is said to offer the typical fresh taste as well as the consistency of quark and can also be used in the same ways. It is rich in almond protein, unsweetened, completely milk-free and is produced without soy or palm oil. Available in two fat levels, this purely vegetable alternative to quark is indispensable for a modern, enjoyable, conscious diet.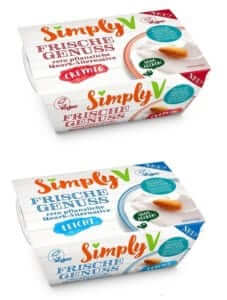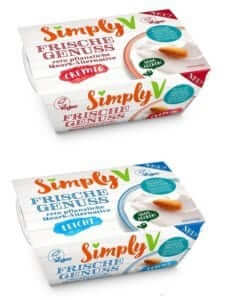 Last year we reported on the new barista quality oat drink launched by Simply V, which was ahead of its time in the oat milk explosion. Other products available include a range of vegan cheese slices, shreds, and cream cheeses, all produced with raw almonds.
"We are really proud of our Simply V Fresh Food because we are entering a new segment, but also because we have created a product that does not yet exist in the world: a purely vegetable quark alternative with all the product properties and uses of quark. Anyone who tries it is fascinated because it is rich in almond protein, but above all because it tastes so good. This shows once again that we know how to translate consumers' wishes into products," says Caroline Zimmer, Managing Director of E.V.A. GmbH.
Advance into new segment underlines know-how and innovation leadership
With this introduction, E.V.A. GmbH underlines the company's well-founded know-how and the associated innovation leadership in the development of plant alternatives. According to Simply V, no other company has so far succeeded in offering vegetable counterparts for cheese and now also for quark, which can be used just like dairy products and simply taste good. As such, the young company is the market leader in its segment with over 70 %.
The new Simply V fresh enjoyment will be available in stores from October 2019. The recommended non-binding price for the 200-g pack "creamy" and "light" is € 2.29 each.