Singaporean plant-based brand HAPPIEE! has launched its frozen seafood and meat analogs in the UK, marking its expansion into international markets. The company secured a listing with Ocado online supermarket and has announced plans to launch at Tesco nationwide in the coming months.
The brand's frozen range includes breaded and plain shrimp, breaded calamari rings, squid rings, and one meat analog: lamb shawarma, described as tender and delicious. The seafood range, according to the company, offers "the mouth-watering flavours of the sea." All the products are GMO, cholesterol and additives-free, high in fibre, and low in calories. HAPPIEE! uses konjac flour for its fish products and soy, potato, or wheat protein for both alternatives.
The frozen category continues to grow in the UK. Tesco's data reveals that a third (31%) of UK adults bought more frozen food at the end of last year and that shoppers will continue to embrace frozen food in 2023. Additionally, a fifth (19%) of UK adults who had not previously bought frozen food started to do so to save money.
"We're excited to offer a product which meets not only the demand of the growing sector but also offers everyone an opportunity to enjoy a plant-based seafood or meat alternative that doesn't compromise taste or texture," said the company on social media.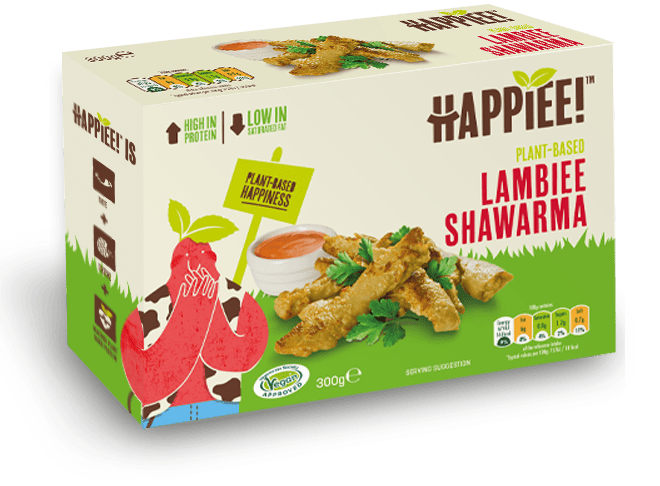 Versatility is key
HAPPIEE! is a brand launched by leading Asian producer Growthwell Foods at the beginning of 2022, offering chicken and fish alternatives suited for the Asian palate. Driven by an ambitious goal of feeding 100 million people with plant-based foods, Growthwell Foods opened an Innovation and R&D Manufacturing Centre in Singapore, featuring one of the country's first HME (high moisture extrusion) lines. HME allows the improvement of the texture and the possibilities of plant-based alternatives.
"Versatility is key, and both products are quick and easy to cook, carry flavours well, and handle pan and air-frying with ease. The breaded options, with their light golden crumb, bring a crispy snacking experience that's perfect for dipping and impressing at family feasts and parties," says HAPPIEE! on its website.