Canada's PlantX (CSE: VEGA), a plant-based digital platform, is celebrating the grand opening of its newest brick-and-mortar superstore, XMarket Uptown in Chicago. At 6,000 sq. ft., PlantX says the new market may be the world's largest all-vegan grocery store.
"Our goal is to make the plant-based lifestyle accessible"
First opened in late July, XMarket Uptown is the company's second US store, and sixth location globally. Offering a vast selection of plant-based foods, shoppers can find everything from meat, dairy, egg and seafood alternatives, to snacks, sauces, bakery items, soups, pasta, cereals and much more.
The store also features a conventional produce aisle with fresh fruits and vegetables, a grab-and-go section for prepared meals, and offers delivery via grocery apps like Instacart and Mercato.
"It's cool to see the world moving in a way where you can have such a large store because of all the new brands and companies coming out," PlantX Chief Marketing Officer Alex Hoffman told VegNews. In addition to groceries, XMarket Uptown operates prep kitchens for the XMeal plant-based meal delivery service, which launched in the US in June.
Vegan bodega
This fall, the company reveals the market will also open a new food hall featuring a rotating selection of food vendors and Up-N-Down Burger, PlantX's upcoming plant-based rival to the iconic In-N-Out burger chain. For the recent grand opening, XMarket hosted sampling festivities with several food brands including Dreampops, Kitchen 17, and Good2Go Veggie, and plans to stage weekly events through the end of the year.
"Our carefully designed XMarket concept brings the vegan lifestyle directly to consumers in Chicago to taste, explore, and understand the plant-based lifestyle," said PlantX CEO, Lorne Rapkin. "XMarket is a vegan bodega, featuring a highly curated selection of the best vegan products available from around the world as well as nearby."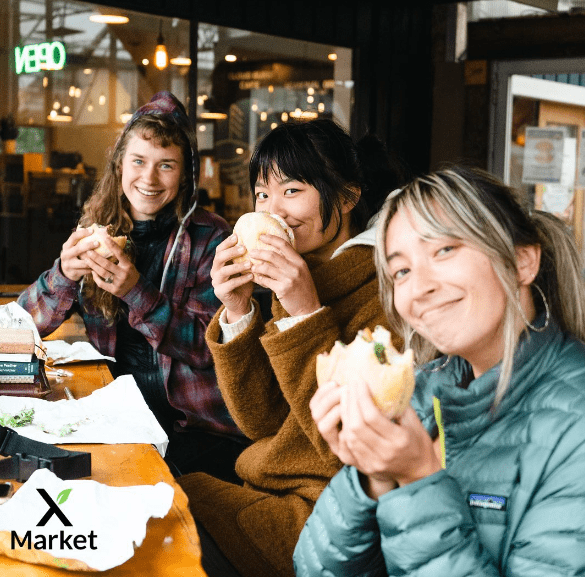 He added, "Our goal is to make the plant-based lifestyle accessible. Our grand opening party in Chicago was an overwhelming success. We plan to leverage the success of live events by hosting weekly events at the store."
XMarket Uptown is located at 804 W Montrose Avenue, Chicago, IL, and is open daily from 9AM – 9PM.