The UK's largest supermarket chain Tesco has announced the introduction of five new products to its Plant Chef frozen food range. The retailer says that consumers are increasingly shopping in the frozen aisle and that frozen foods are an efficient way to save money and prevent waste.
Tesco as early trendsetter
Tesco initially paved the way in UK retail for plant-based products, with vegan chef Derek Sarno at the helm, and was named the top supermarket in the UK for plant-based products back in early 2021, though it is unclear in 2023 which supermarket leads the way, with most of the Big Five upping their game this Veganuary. In September last year, Tesco expanded its range with 34 new products launched across various categories.
Tesco's new frozen Plant Chef range is now in select Tesco stores nationwide and will be available to purchase online from next week, entailing:
Meat-Free No-Chicken Breasts 180G (pack of 2)

Meat-Free Hot Dogs 280G (pack of 4)

Fish-Free Cakes with Melt 280G (pack of 2)

Fish-Free Goujons 240G (pack of 8)

Meat-Free No-Chicken Garlic Kievs 280G (pack of 2)
"All five additions provide easy plant-based substitutes to existing meal staples and offer great value for money, making it easier to make the switch for Veganuary and beyond. Not to mention the frozen format ensures people only cook with what they need, so there's no wastage," says Tesco.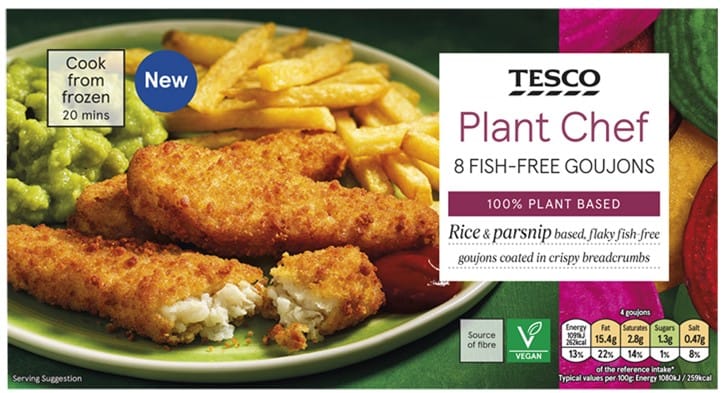 Growing trend toward frozen food
According to Tesco, its portfolio expansion responds to the growing trend toward frozen food in all categories, including plant-based alternatives.
Tesco's data reveals that a third (31%) of UK adults bought more frozen food at the end of last year and that shoppers will continue to embrace frozen food in 2023. Additionally, a fifth (19%) of UK adults, who had not previously bought frozen food, started to do so to save money.
Executive Chef Jamie Robinson at Tesco explains that frozen foods are as nutritious and delicious as fresh produce and that saving money, cutting down on food waste, and the wide range of available options are among the main reasons to embrace frozen foods in 2023.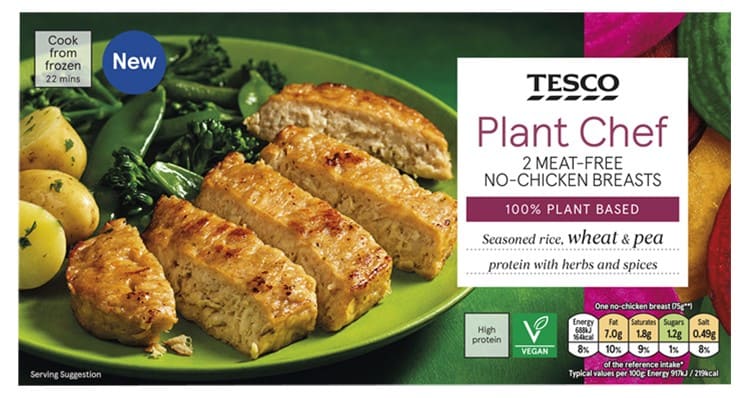 "Gone are the days when frozen food options consisted solely of frozen peas and carrots – there's never been more choice or innovation in the sector. We've launched everything from frozen rice to avocado chunks and are now expanding our Tesco Plant Chef frozen food range so customers can easily find plant-based alternatives to their usual family favourites in the frozen aisle.
"Aside from frozen foods, the wider Plant Chef and Wicked Kitchen ranges available exclusively at Tesco ensure customers have access to a huge variety of plant-based products and inspiration for new meals at great price points, so everyone's can try something new this Veganuary," states Robinson.