The Bank of England has announced that the new £50 note will be comprised of a plastic polymer containing tallow, an animal fat ingredient, despite provoking huge controversy amongst vegans and religious groups. We spoke with the vegan activist and orchestrator of the campaign against the bank in light of the recent news.
Vegans and other groups around the UK have been campaigning against the bank since it first announced the polymer ingredient would be introduced into the £5 and £20 notes around three years ago. Dominika Piasecka, spokeswoman for The Vegan Society, says she is "disappointed" about the decision. "This is problematic as it perpetuates the false belief in our society that we can use animals as we please," she told The Independent.
Doug Maw, the vegan activist who launched the initial campaign against the bank, spoke yesterday with vegconomist about the issue: "The reason this is important is because it 'forces' vegans, vegetarians, Hindus, Sikhs, Jains & others to use a product containing parts of a cow in direct contravention of their ethical or religious beliefs. There are NO other products forced on us. There are alternative tyres, candles, plastics and polymers that do not contain animal parts.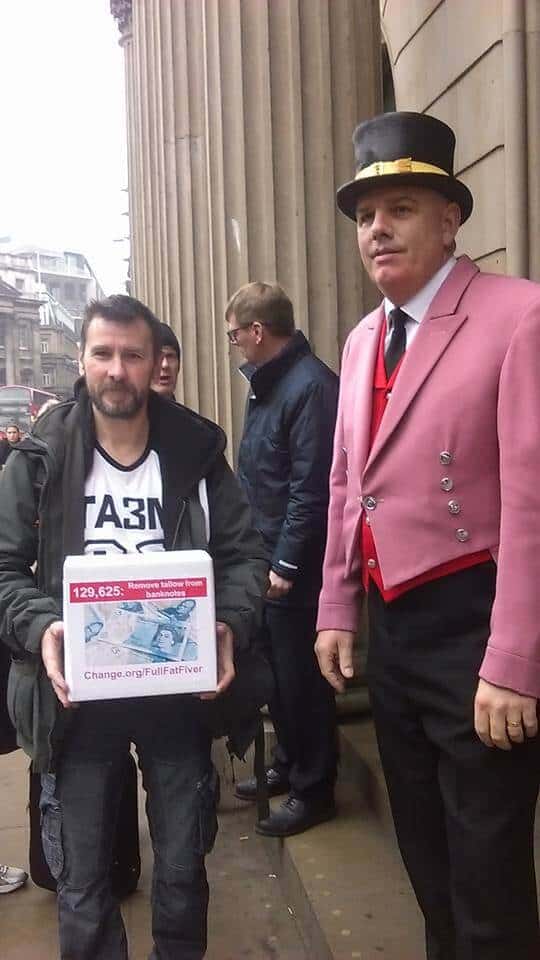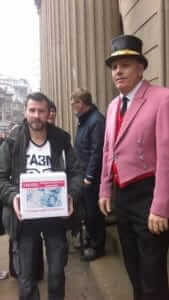 "I highlighted the alternatives in a meeting with the Bank of England. They agreed to suspend tenders for the new £20 until they had conducted their own consultation on options. Their own results showed that 88% of respondents do not want animal parts in their money. Yet they decided to press ahead anyway with the use of animal parts. This shows that their meeting with me and their public consultation were disingenuous.
"The news that the new £50 is to also contain parts of cows is no surprise to me. I would welcome any opportunity to revisit this case and plead with lawyers to do pro bono work on this case, that is in clear contravention of the human rights of numerous groups of people."
For further information or rebuttal of arguments against this campaign please contact Doug Maw [email protected].