Several readers have commented on the distinction between the terms "vegan" and "plant-based" in what is a hot topic and one that continues throughout the vegan community. This subject is one that invites more and more debate as we see an increasing number of multinational corporations moving into the meat alternative market, especially from the animal meat industry.
The fundamental difference between the terms "vegan" and "plant-based" is that vegan is a moral standpoint, more a lifestyle than a diet, which avoids all animal use or exploitation; whereas plant-based is a way to describe food which is made (usually) completely from plants, or a label for dietary rather than ethical choices. It is a simple enough distinction, although one in which there are black and white camps but with some companies seemingly taking up camp in a grey area between the two.
Tyson Foods, is one example of a company moving into this grey area with their new "plant-based" protein products. As we reported a fortnight ago, Tyson's pea-based nuggets are labelled as "100 percent plant-based" however this product contains eggs, and possibly milk and this is even stated on the ingredients. Essentially, in this instance, Tyson appears to be using the term "plant-based" to describe foods which are mostly "based" on plant ingredients, which could be said to be an unorthodox use of the term.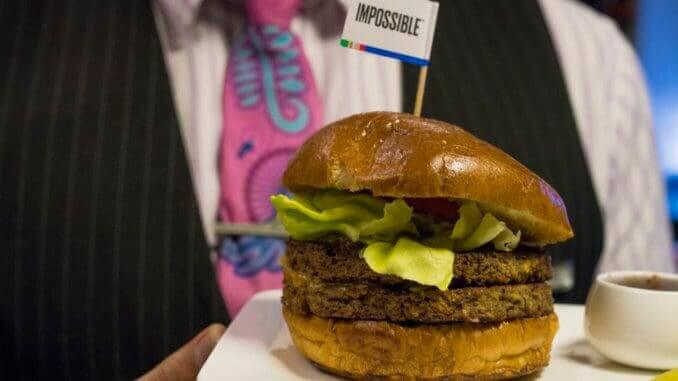 Another example of this often-confused area between plant-based and vegan can be seen between the Impossible Burger and the Beyond Burger. The Impossible Burger is made with an ingredient called heme, made from the roots of soy plants, which is certainly plant-based. But due to the fact that the product was tested on lab rats by the company, in its initial FDA regulatory stages, it can more accurately be described as a plant-based than a vegan burger.
Impossible's CEO stated at the time that although this decision was regrettable, it was ultimately for the greater good and would save countless thousands of animals. The Beyond Burger, on the other hand, does not contain heme and is certified vegan by Vegan Action and the Vegan Awareness Foundation.
Ultimately, the choice lies with the end-user and their own ethical viewpoint, and the consumer and business alike should strive to stay informed in order to make educated decisions. Vegconomist will continue inform on these products.