Veganuary – the UK based challenge that has so far helped over half a million people try veganism in January, is coming to Germany this year. In January of this year, over 500 brands, restaurants and supermarkets took part in the UK, and launched more than 200 new plant-based products and menus to the market. The campaign also became popular in the US as we reported last December.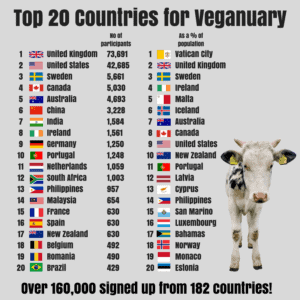 Veganuary's German launch will include a brand-new TV spot as well as support from celebrity ambassadors. The German website and a one-month email series will also be available as part of Veganuary 2020. The campaign aims to inspire no less than 350,000 people to try a vegan diet in January.
Veganuary says that the post-Christmas period offers the perfect opportunity to create a one-month campaign activation and focus on your vegan range: "Businesses can get involved with Veganuary right now: we want our participants to have a great Veganuary journey. We have created the Veganuary Business Support Toolkit to help businesses effectively take part in the campaign and attract new customers."
Veganuary is currently seeking a Head of Campaigns Germany, click here for further details.