Students at the UK's prestigious University of Cambridge have voted to make menus fully plant-based across the student union's cafes and canteens.
Following a four-week consultation process, 72% of non-abstaining voters were in favour of the motion. The vote was held in response to lobbying from the Plant-Based Universities campaign, which is supported by Animal Rebellion (an offshoot of environmental group Extinction Rebellion).
"It's great that Cambridge students' union has passed our motion"
The motion does not guarantee that Cambridge's catering services will remove animal products altogether, as decisions about menus are made by the university rather than the students' union. The vote also does not apply to the university's colleges, though Plant-Based Universities Cambridge said it provided "an extremely strong mandate for colleges to begin transitioning to 100% plant-based menus".
But while the outcome is currently uncertain, the university previously agreed to remove beef and lamb from menus in 2016, suggesting that it may be open to making further changes.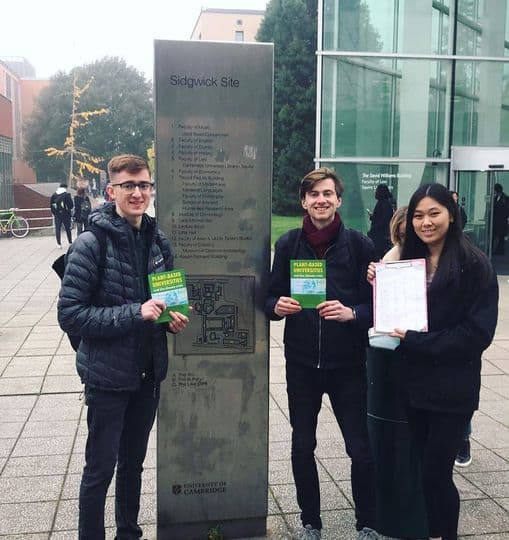 Plant-based at universities
Cambridge is the second UK university to vote for fully plant-based menus, after Scotland's Stirling University also voted in favour last November. Half of meal options at Stirling's student's union will be plant-based by the next academic year, and this will rise to 100% by 2025.
In the US, catering giant Sodexo has partnered with the Humane Society to make 42% of the meals it serves at universities plant-based by 2025. The company made the decision after calculating that the majority of its supply carbon emissions originate from the purchase of animal-based foods.
"It's great that Cambridge students' union has passed our motion to work with the university to implement a just and sustainable plant-based catering system," said William Smith from Plant-Based Universities Cambridge. "By removing animal products from its menus, the university could significantly reduce its environmental impact and showcase to the world its commitment to sustainability."