The Good Food Institute has recently launched a competitive $3 million  scholarship program to support open-source research on plant-based and cultured meat. The 24 universities selected for the programme have now been announced. They have beaten the competition because of their technical expertise, research capacity and partnerships with the private sector.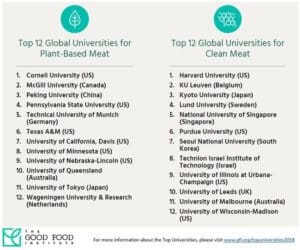 The 12 best universities worldwide in the areas of Plant-Based Meat and Clean Meat have been selected. These include Cornell University (US), McGill University (Canada), Peking University (China), Harvard University (US), KU Leuven (Belgium) and Kyoto University (Japan). The Executive Director of the Good Food Institute said, "Universities can have a major impact on this space. USDA-funded research at the University of Missouri was key for the plant-based meat company Beyond Meat. Dr. Mark Post's research at Maastricht University led to the first clean meat burger in 2013, followed by the formation of the clean meat company Mosa Meats."
More information on the scholarship programme can be found on the website of the Good Food Institute.