The Plant Based Foods Association (PBFA) and one of its members Upton's Naturals, an independent maker of plant-based foods based in Chicago, has joined forces with The Institute for Justice to file a federal lawsuit challenging a new Oklahoma food labeling law as a violation of the First Amendment.
The new law requires vegan producers to label products as plantbased in a font that is equal in size to the brand name. This move will incur heavy costs to smaller companies and could force some out of business. PBFA Executive Director Michele Simon stated to FoodNavigator.com that "it is highly likely that some PBFA members would withdraw products in Oklahoma, should the law go into effect."
The PBFA website states: "The Oklahoma Meat Consumer Protection Act, which takes effect November 1, 2020, was introduced by Oklahoma State Senator Micheal Bergstrom in conjunction with the Oklahoma Cattlemen's Association and stewarded through the Oklahoma Legislature by one of the association's cattle ranchers, State Representative Toni Hasenbeck."

Mississippi, Missouri, and Arkansas have sought to make it illegal for plant-based foods to use terms such as 'burgers' or 'bacon'. And this summer we reported that in California, plant-based creamery Miyoko, won the first round in its lawsuit against the California Department of Food and Agriculture, in a dispute over labeling, specifically the term 'Cultured Vegan Butter', as this apparently creates an 'erroneous impression', implying that Californian consumers can't understand that vegan butter is animal-free.
On the other hand, however: in Florida this April, a lawsuit against Burger King for being misleading with how it cooks its Impossible Burgers on the same grill as its meat products, was ruled in the favour of BK since vegans 'were unreasonably ignorant', by not asking the question – "is my plant-based burger still animal-free when served?"
Upton's Naturals co-founder Daniel Staackmann stated: "Our labels make it perfectly clear that our food is 100% vegan. But now our meat industry competitors in Oklahoma want to force us to redesign our labels as if our safe, healthy products are potentially harmful. It's not the first time we've had to fight a state law created by our competitors, and we look forward again to defending our First Amendment right to clearly communicate with our customers."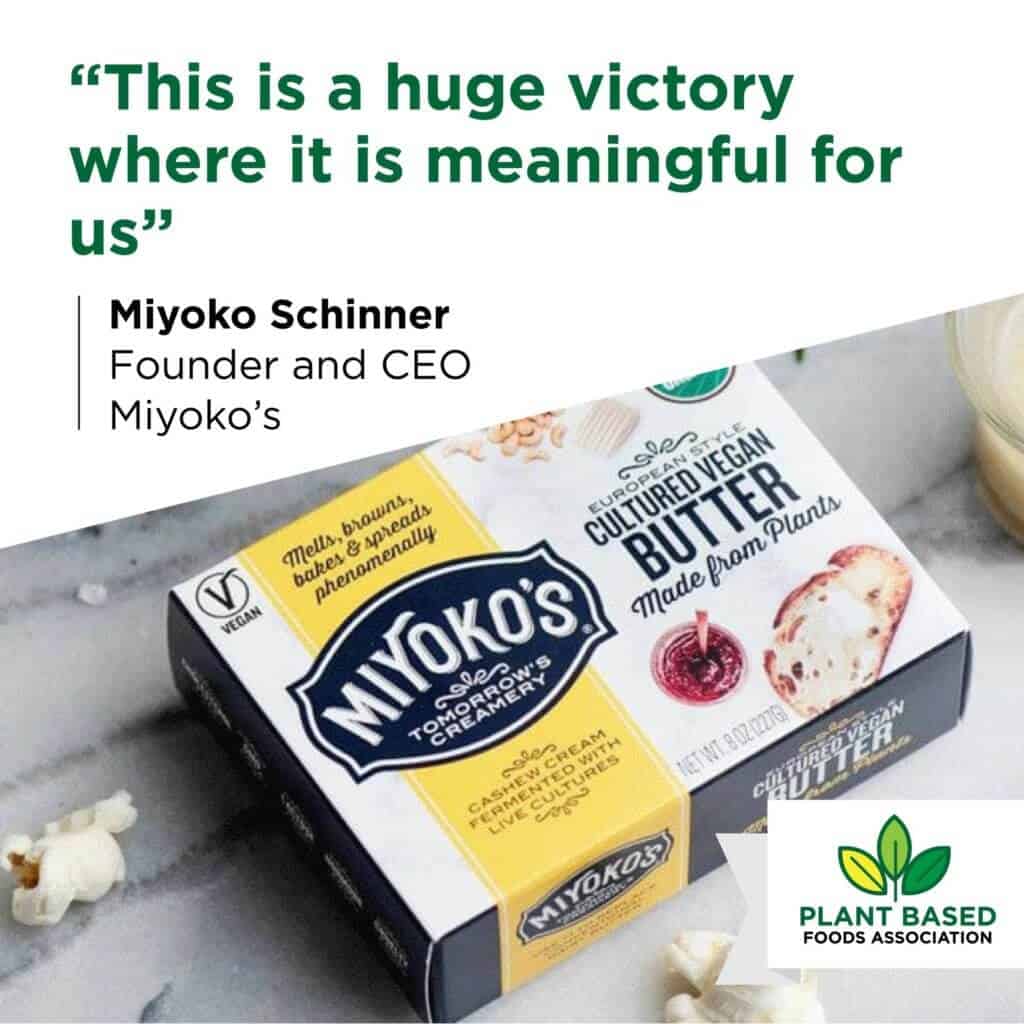 PBFA's Executive Director Michele Simon also stated: "The plant-based meat category is on fire right now, with consumers demanding healthier and more sustainable options as alternatives to animal products. Oklahoma's law, along with similar laws in several other states, is the meat lobby's anti-competitive response to the increased consumer demand for plant-based options. Whatever happened to free-market competition? We are proud to stand with Upton's Naturals and the Institute for Justice to protect PBFA members' First Amendment rights to clearly communicate to consumers."