Israeli startup The Mushroom Benefit Ltd. rolls out its innovative line of Cuisine Bags set to redefine the soups, stock, and sauces retail market. The startup will launch the new product line at the Summer Fancy Foods Show, New York at the Javits Center, on June 23-25, booth #3702, adjacent to the entrance to Hall E.
Each mesh sachet (about twice the size of a tea bag) contains a unique blend of exotic mushrooms and natural seasoning and flavours which the company said will "endow any savory stew, soup, sauce, or marinade with a gourmet touch in a single easy step." The patent-pending bags offer a plant-based, clean-label alternative to traditional powdered soup stocks.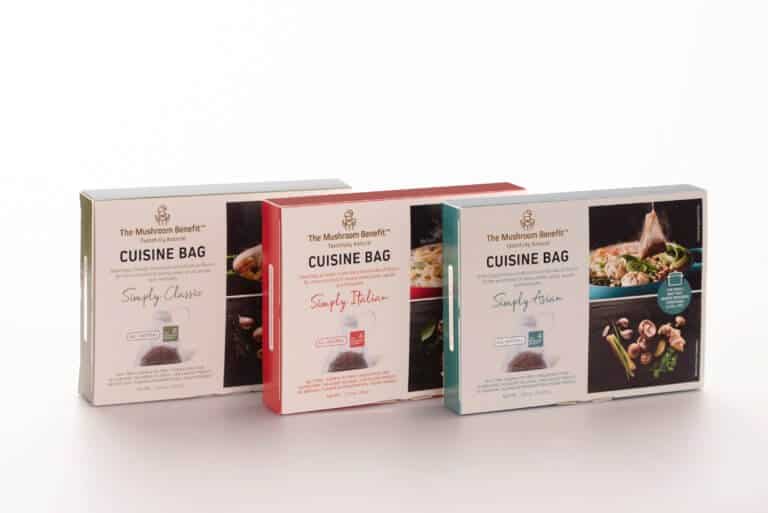 Each Mushroom Benefit Cuisine Bag package contains five sachets. The bags themselves are made of 100% natural and wholly biodegradable corn fiber, demonstrating the company's commitment to careful utilization of natural resources and reducing packaging footprint.
"Preparing a sophisticated and healthy meal requires effort, knowledge, and time spent pre-planning, cutting, soaking, filtering, spicing, and preparing a stock," adds Tal Leizer, CEO of Practical Innovations Ltd., a key innovation engine behind the development of the Mushroom Benefit Cuisine Bag. "That's too much trouble and time-consuming for many of us in a life that is overly crowded with other demands. These small sachets are designed to bring the mushrooms' essence to the dining table with minimal effort and maximum indulgence."
Family run business
The Mushroom Benefit Ltd. started as a family run business. Oren Kessler, the company's R&D VP, together with his lifelong partner, Weigensberg, dedicated their activities to the research, cultivation, and marketing of exotic mushrooms in Israel. Today, the startup focuses on the innovation and development of novel functional food products based on exotic mushrooms and other natural ingredients within the international specialty food marketplace.
The Mushroom Benefit will be at the Fancy Foods Show New York, at the Javits Center on June 23-25, booth #3702, adjacent to the entrance to Hall E.