Despite inflation, US consumer demand for plant-based foods remained strong in 2022, according to a newly released report, The Plant Based Foods State of the Marketplace. The report found the number of Americans consuming plant-based foods increased to 70%, while several categories, including plant-based creamers and eggs, saw markedly strong growth last year.
"The plant-based foods industry has proven its resilience"
Compiled by the Plant Based Foods Association (PBFA) and GFI using data from SPINS, the report shows that plant-based food dollar sales grew 6.6% in 2022 to $8 billion.
According to PBFA, consumer research demonstrates that, despite challenges of scaling, lack of subsidies, and shrinking retail space, US demand for plant-based foods remains strong and is growing. Research reveals 70% of the total US population is consuming plant-based foods, an increase from 66% one year ago, says PBFA. In addition, plant-based foods saw 60% household penetration in 2022, and achieved a repeat purchase rate of 80% across all categories.
Plant-based milk dominates
The report found plant-based milk continues to make up the largest segment of plant-based foods, with the category growing 9% in 2022 to $2.8Bn. Approximately 15% of all milk sold in the US is now plant-based milk, which has become a category "powerhouse" and household staple, says PBFA. With 40.6% of households purchasing dairy-free milk, an incredible 75.7% of consumers repeated their purchases in 2022.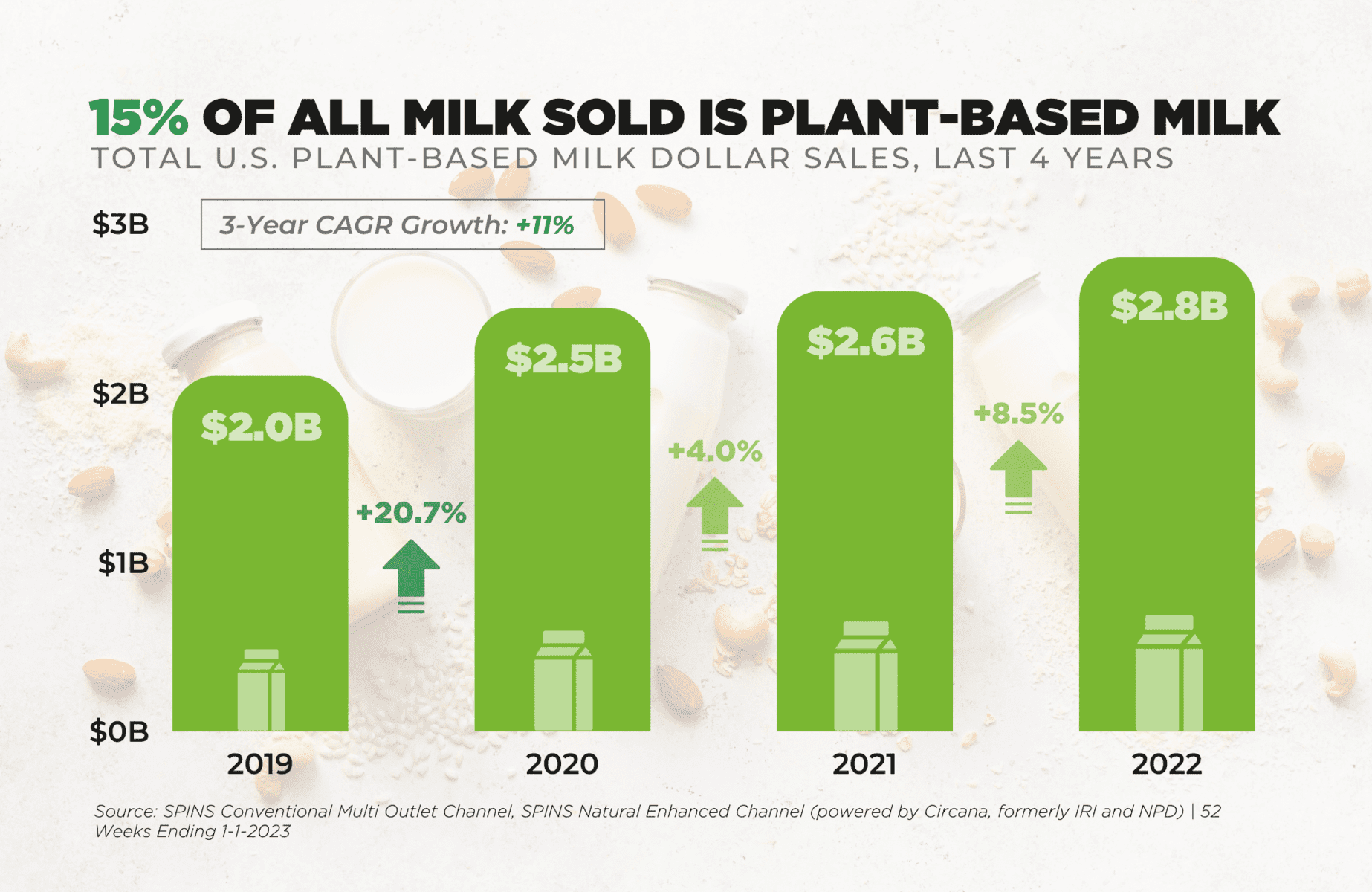 Plant-based meat remains stable
While overall unit sales of plant-based meat declined by 8.2% in 2022, US dollar sales of plant-based meat remained "remarkably stable", with a slight decrease of of 1.2%. With household penetration of 17.5%, this category demonstrates consistent consumer interest, with a repeat purchase rate of over 62%, says PBFA.
In addition, the category continues to evolve and diversify: frozen plant-based meats still make up the largest segment, but shelf-stable products are seeing steady growth.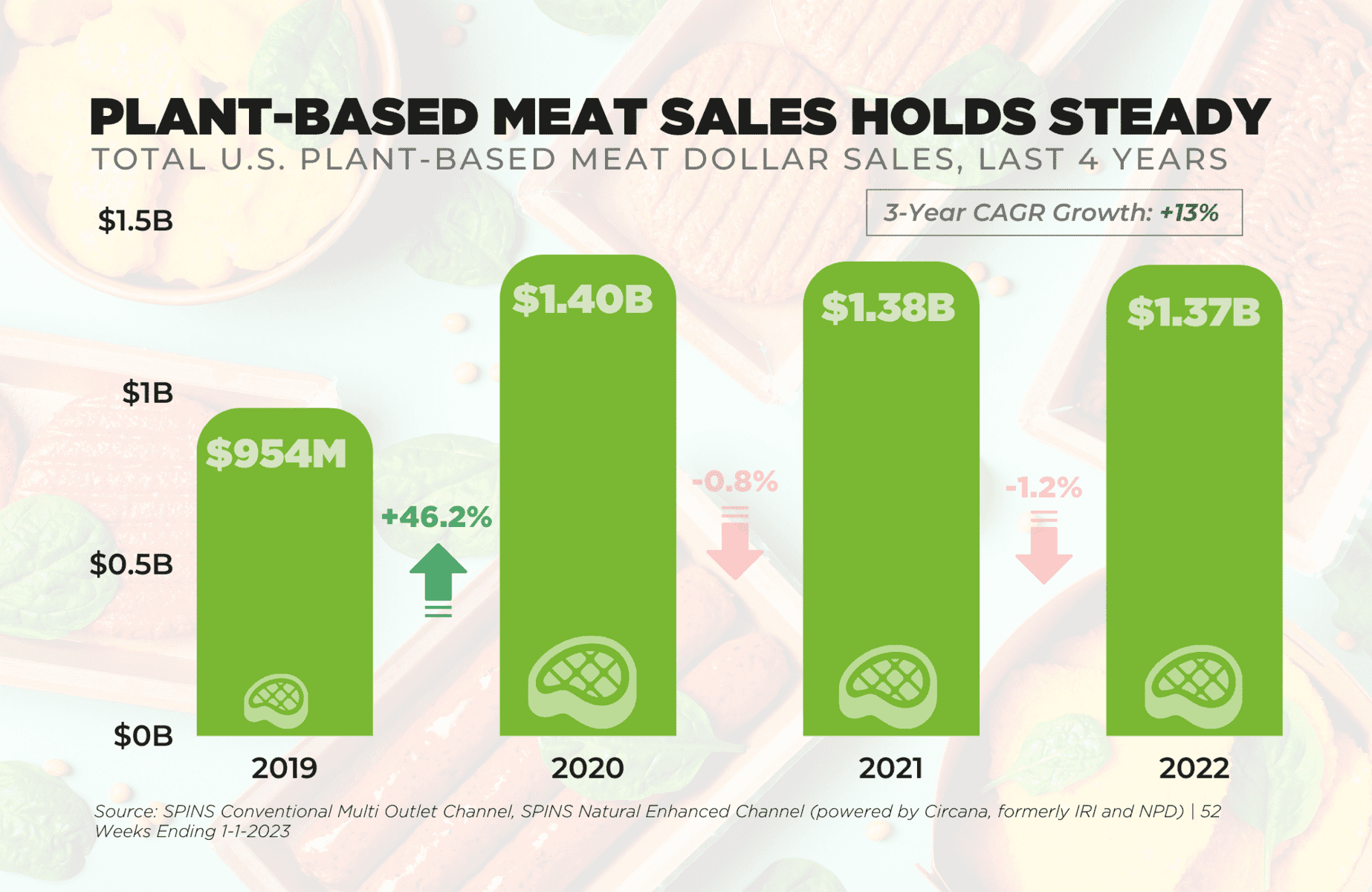 Growth in eggs and creamers
In 2022, five categories – plant-based eggs, creamers, protein powders, ready-to-drink beverages, and dips and spreads – saw particularly strong US retail growth. This indicates that "consumers are now seeking out plant-based options in even the most nascent categories, with consistent annual growth despite persistent industry challenges," states PBFA.
Plant-based creamers saw unit growth of 12% last year, while plant-based eggs grew 14% in dollars and 21% in units.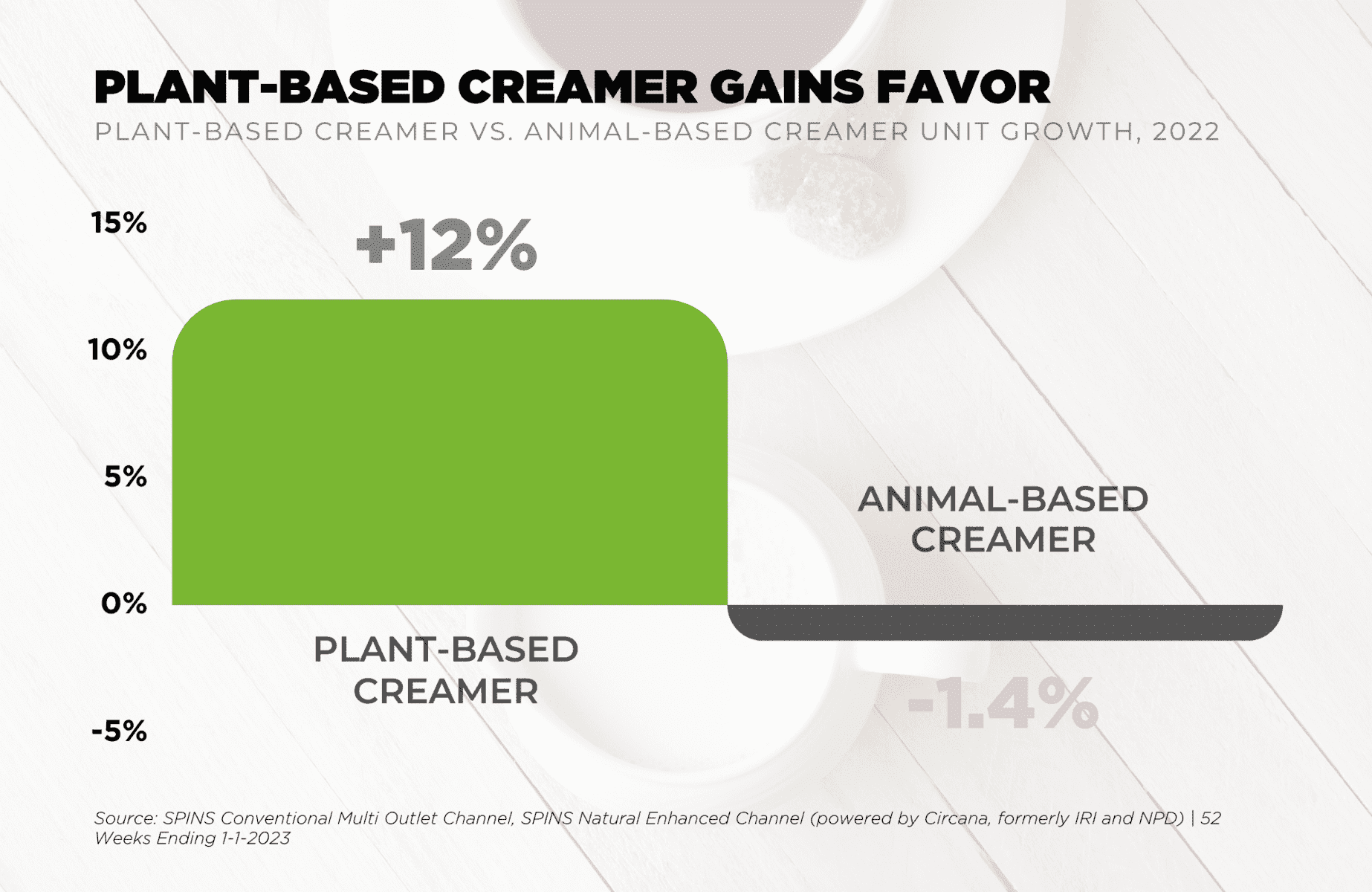 Overall, PBFA's research shows that 67% of the US population still believes that plant-based foods are healthier than animal-based foods, with 42% planning to substitute animal foods with more plant-based foods, and 27% planning to eat less animal-based food in the future.
Weathering challenges
"The plant-based foods industry has proven its resilience, weathering unprecedented challenges to maintain cross-category market shares and achieve $8 billion in US retail sales," said Rachel Dreskin CEO of PBFA. "This success is a testament to the dedication of consumers who are looking for plant-based options for every eating occasion, and the innovative brands and marketplace partners who are working to meet growing demand for sustainable, healthy, and delicious options."
The full report can be found here.