In a "first of its kind" study, global food service provider Sodexo says it found that switching from a meat-default to a plant-default meal at several colleges produced a dramatic result: 81% of students chose the plant-based meals. Surveys also indicated that the students – including meat eaters – were more likely to express satisfaction with meat-free meals on days when plant-based food was the default.
"Companies like Sodexo have made ambitious climate commitments that they can only achieve by serving more plant-based foods"
Working with the Food for Climate League and the Better Food Foundation, Sodexo states the study is the first multi-university in-field experiment using default plant-based options within all-you-care-to-eat settings. The study involved three US colleges: Tulane University in New Orleans, Lehigh University in Bethlehem, Pennsylvania, and Rensselaer Polytechnic Institute in Troy, New York.
"Astounding" results
The research team assessed one dining hall station containing eight pairs of dishes (one meat-based and one plant-based) throughout 35 lunch periods across the three schools. On the plant-default day, the plant-based dish was presented as the only option, though students could request a meat version. On the control day, both meat and plant-based dishes were presented side-by-side.
The results, say Sodexo, were "statistically astounding": Across two dining stations that consistently implemented the plant-based default, nearly 82% of students chose the plant-based entree near the end of the study, compared to 31% before the study began.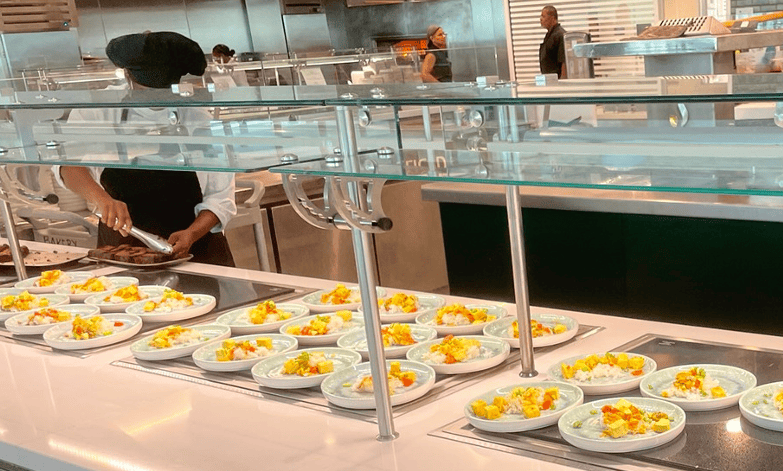 According to the company, this data supports previous research showing "choice architecture" is an effective means of encouraging people to eat more plant-based foods.
Additional benefits
Through surveys, researchers also uncovered a secondary benefit of this approach: On plant-default days, students were significantly more likely to express satisfaction with their meals. This finding suggests that the default positively influenced attitudes about plant-based foods, and such normalization could help food halls expand their plant-based offerings with greater ease.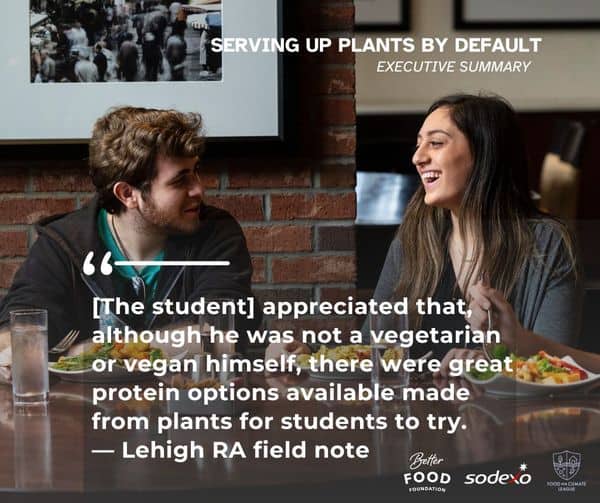 Meeting climate goals
During the study, Sodexo noted that the decrease in meat consumption reduced greenhouse gas emissions by nearly 24%, demonstrating that such emerging strategies can help other companies effectively follow through on climate commitments.
For its part, Sodexo has pledged to make 50% of its college campus meals plant-based by 2025.
"Companies like Sodexo have made ambitious climate commitments that they can only achieve by serving more plant-based foods," said Food for Climate League founder and Executive Director Eve Turow-Paul. "The challenge for foodservice leadership is how to make this shift while keeping students and staff satisfied. Behavioral nudges, including defaults, are a powerful addition to their toolkit for achieving this goal."
Better Food Foundation Executive Director Jennifer Channin stated: "This study confirms what we've seen repeatedly—that Gen-Z students are not only open to plant-centered dining, but that they feel good about eating in places that center plant-based meals. These findings give us hope that the plant-centered food system our world needs is easier to achieve than we used to think."
A full summary of the study can be found here.