The most recent US retail sales data by the Plant-Based Foods Association (PBFA) shows that the plant-based food industry is primarily driven by the increasing demand for plant-based meat and milk products. However, other categories make up 47% of the total plant-based sales, indicating that consumer interest extends beyond just alternatives for meat and milk and is actively contributing to the industry's overall growth.
According to the PBFA, plant-based food dollar sales increased by 6.6% to reach $8 billion in 2022, while animal-based and total food and beverage sales decreased by 3%. These figures show that the plant-based industry has remained strong even during the latest economic crisis.
Moreover, the PBFA highlights that over the past three years, plant-based foods have experienced rapid expansion, with a compound annual growth rate (CAGR) of 13%, surpassing the 9% growth of total food.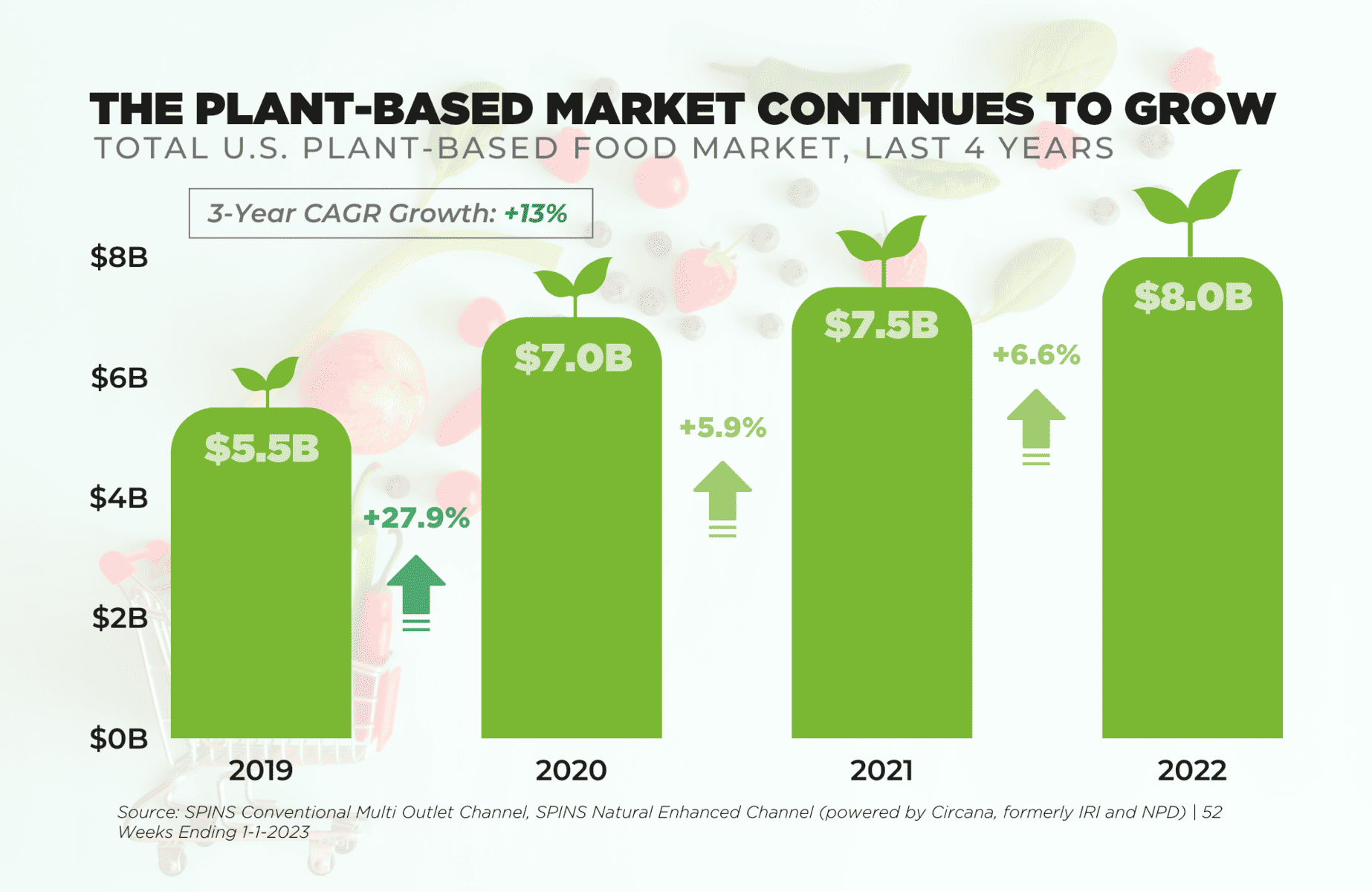 "Solid resilience"
Additionally, household panel data from Circana shows that 60% of US households purchased plant-based foods — a steady rate from the previous year. Furthermore, 80% of homes were repeat purchasers of plant-based foods, demonstrating a solid resilience even during inflationary conditions, says PBFA.
Plant-based milk accounts for almost 50% of the space allocated to plant-based products, making up 42% of all milk sales in the natural channel.
But the plant-based consumer base continues to grow and evolve, driving the growth and expansion of the whole sector. Representing 47% of all plant-based sales, these categories include seafood, cheese, eggs, butter, yogurt, tofu & tempeh. Also ice cream, spreads & dips, snacks, baby food, pet food, condiments, dressings, beverages, protein powder, bars, desserts, and chocolate.
For example, according to PBFA, plant-based cheese sales reached $233 million, experiencing a slight decrease of 1.71% in 2022 compared to 2021. But the percentage of households purchasing plant-based cheese increased by 0.2%, reaching 5%. On the other hand, the rate of households purchasing animal-based cheese decreased by 0.3%.
Alt seafood outpaces conventional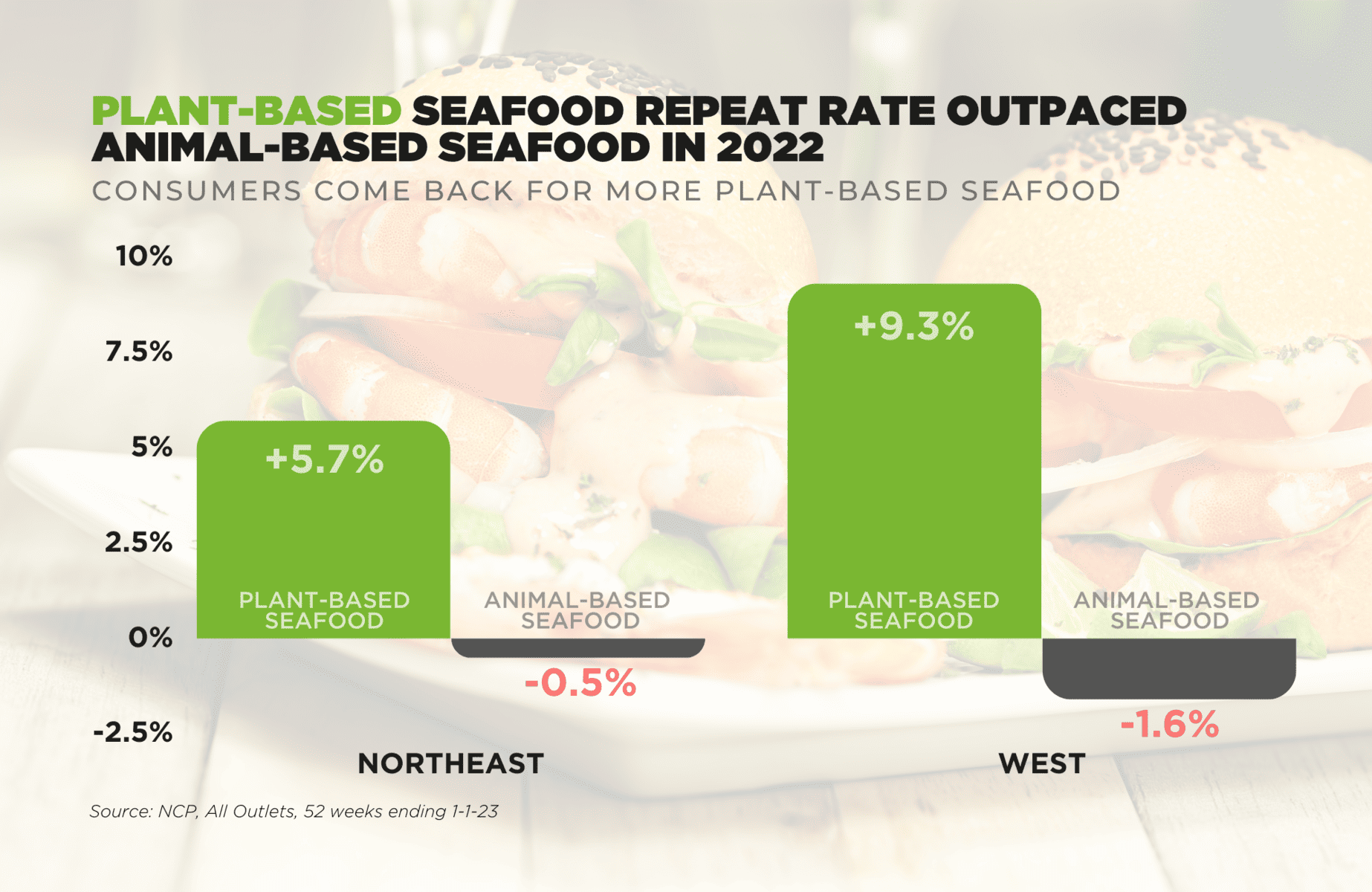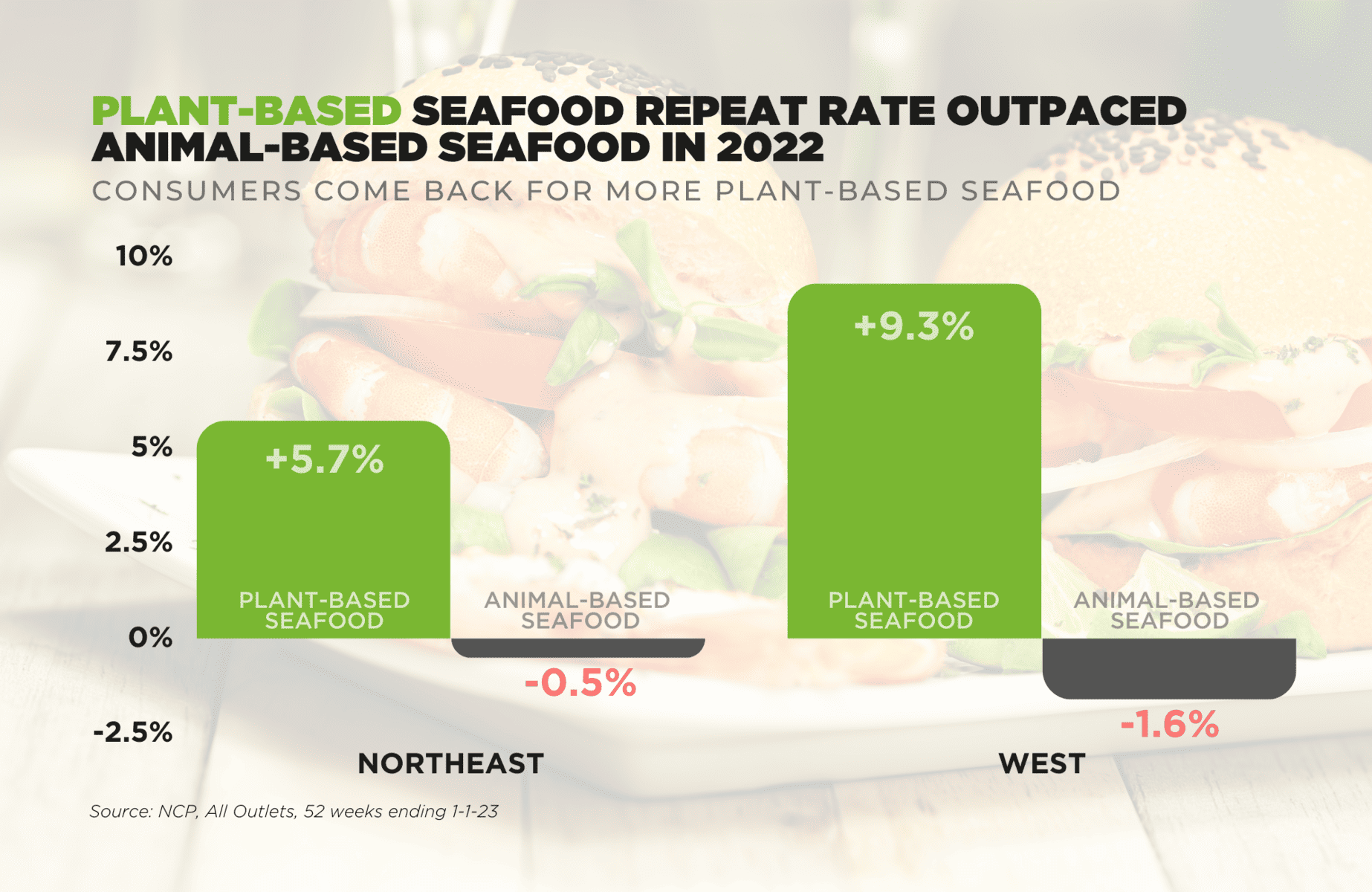 And plant-based seafood, including fish and shellfish, were among the top three plant-based meat types that grew the most in dollar sales in 2022.
Filets and whole cuts accounted for 81% of plant-based seafood sales. Crabcake-style patties comprised 64% of shellfish sales, suggesting consumers prefer burger formats. The household penetration rate of plant-based seafood remained steady at 0.8%, with a repeat rate of 40.1%. On the other hand, repeat rates for animal-based seafood declined in all regions.
Significant growth for plant-based eggs
The emerging consumer interest is exemplified by the plant-based egg category. The exponential growth in this category is driven by increasing consumer adoption, availability of options, and innovation. In 2022, plant-based eggs saw a significant growth of 14% in sales revenue and 21% in units sold. On the other hand, although chicken eggs experienced a substantial 47% increase in sales revenue, there was a 1% decline in units sold. This can be attributed to higher prices for animal-based eggs, mainly due to avian flu outbreaks and resulting shortages. These price hikes contributed to the increase in sales revenue, but had a negative impact on unit sales.
Linette Kwon, Data Analyst at PBFA, comments: "The findings of our report show that consumers want plant-based foods for every eating occasion. From snacks to seafood to ready-to-drink beverages, consumers are exploring the variety of flavors and types available to them. We anticipate the expectation for plant-based options for all categories in retail/grocery to continue to grow through ongoing innovation."