A plant extract is defined as a substance or an active ingredient with desirable properties. These extracts are extracted from the tissue of a plant, usually by treating them with a solvent, such as alcohol or water. Plant extracts are used as ingredients in food and other consumer products for various functions such as modifying flavors, aroma, or nutritive quality.
These compounds extracted from plants are rich in a large number of secondary metabolites such as tannins, terpenoids, alkaloids, and flavonoids; and possess antimicrobial properties against a wide range of harmful microorganisms. Plants containing beneficial phytochemicals may supplement the requirements of the human body by acting as natural antioxidants. Hence, there has been an increasing interest in the antimicrobial properties of plant-derived products for their potential uses as alternatives to synthetic preservatives.
FIGURE 1:  Rising awareness of the side-effects of synthetic flavors and Growing R&D activities for natural EXTRACTS AS ingredients drive the market for plant extracts
Source: Secondary Sources, Company Annual Reports, Industry Journals, Expert Interviews, and MarketsandMarkets Analysis
Increase of diseases drives growth
The plant extracts market is estimated to be valued at USD 23.7 billion in 2019 and is projected to reach USD 59.4 billion by 2025, at a CAGR of 16.5%. The increasing prevalence of chronic diseases such as skin cancer, rapidly growing demand for herbal medicines and plant extract-based functional food and food additives and rise in the trade of plant extracts are some factors driving the growth of the plant extracts market.
According to the World Health Organization (WHO), in 2001, chronic diseases contributed to approximately 60% of the 56.5 million total reported deaths in the world and approximately 46% of the global burden of diseases. The proportion of the burden of non-communicable diseases (NCDs) is expected to increase to 57% by 2020. Moreover, according to the National Center for Chronic Disease Prevention and Health Promotion, in 2012, about 117 million people in the US had one or more chronic health conditions, and one of four adults had two or more chronic health conditions. This has increased the consumption of bioactive compounds from plants, as they do not have any side effects on the human body, instead providing the body with nutrients and other useful minerals.
FIGURE 2: The Pharmaceuticals & Dietary Supplements segment to dominate the plant extracts market, by application, throughout 2025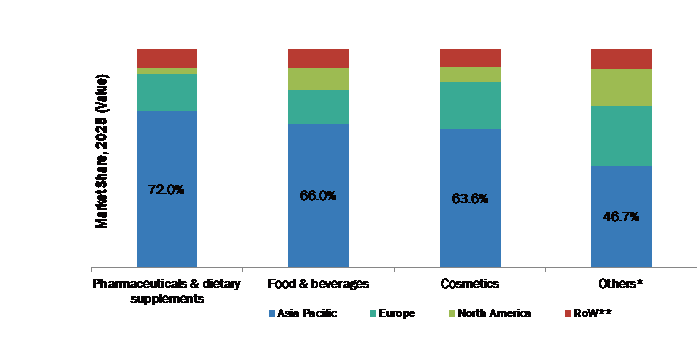 *Others include personal care products & toiletries.
**RoW includes South America and the Middle East & Africa.
Source: Secondary Sources, Company Annual Reports, Industry Journals, Expert Interviews, and MarketsandMarkets Analysis
Leading markets
Countries in North America (US and Canada) and Europe (UK and Germany) are the leading consumers in the plant extracts market, however, countries in Asia (China and India) are the leading producers of the same. Asia is home to a large variety of plants with medicinal and herbal properties, with India and China leading the league. The region's rich history of herbal, ayurvedic, and homeopathic medicines along with the technological advancements for plant extracts processing has been creating surplus demand for plant-based healthy and nutritious products and trade globalization.
Key manufacturers in this industry, who understand the market demand for safe and healthy food and other consumer products, are investing in the plant extracts market to provide new and innovative plant extracts-based products. Apart from the various benefits they offer, due to lack of awareness about the advantages offered by plant extracts in developing countries and limited regulations for plant extracts usage, the market growth may get restricted in future.