In these uncertain times when many businesses are suffering hardship or even facing closure, we at vegconomist reached out to plantbased leaders across the globe and asked them to nominate their most-loved vegan business, which they feel is deserving of love and support from the vegan community right now.
In the spirit of vegan business supporting vegan business; here we present ten prominent figures and organisations from around the planet, revealing their most-loved plant-based companies. Let's spread that vegan love!
1. Christina Downey, CMO at milkadamia nominates No Evil Foods.
"The products that they put out are spectacular, which is where any of our food love affairs begin. A favorite treat is Buffalo Comrade Cluck Nachos. We sauté our milkadamia butter spread and hot sauce and toss in the Cluck, serve it over nacho chips and top with lettuce, Daiya blue cheese dressing and cilantro. Perfecto.
"But beyond their products, we love the stance they take to put good into the world – It is right in the name. "Do No Evil is the crux of what we do and the center from which all good emanates." Their credo is righteous.
Lastly, they've created a bold brand, one that knows its voice and place."
Click here to support milkadamia. Click here to support No Evil Foods.
2. Rachel Hugh, co-Founder of The Vurger, nominates The Coconut Collaborative.
"We love the company The Coconut Collaborative. Their dairy free little pots of chocolatey heaven are the perfect treat and we always use their vanilla yoghurt in our breakfast bowls every morning !
Click here to support The Vurger. Click here to support The Coconut Collaborative.
3. Fry Family Foods tells us of their special relationship with Tofurky
"At Fry Family Foods we have been huge fans of Seth Tibbot and Tofurky for three decades now and our companies have shared much of the same history. Both our brands started from extremely modest, family run beginnings thirty years ago and are still led by our respective founders, Seth Tibbot and Wally Fry. Over that time, Tofurky's range of delicious products has continued to evolve and expand but their mission has steadfastly remained the same: to make tasty, healthy plant-based food that makes people, animals, and the planet happy.
Click here to support Fry Family Foods. Click here to support Tofurky.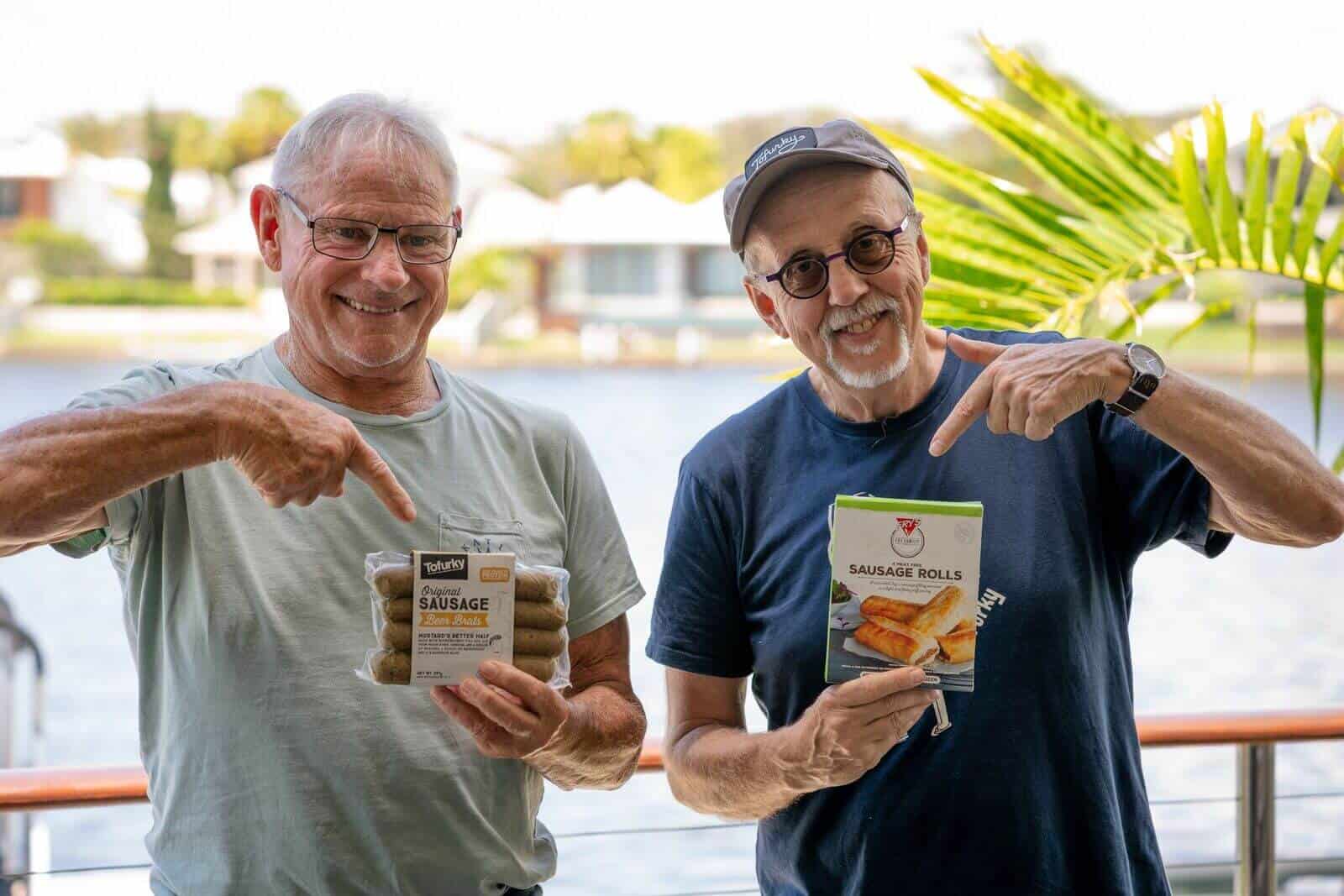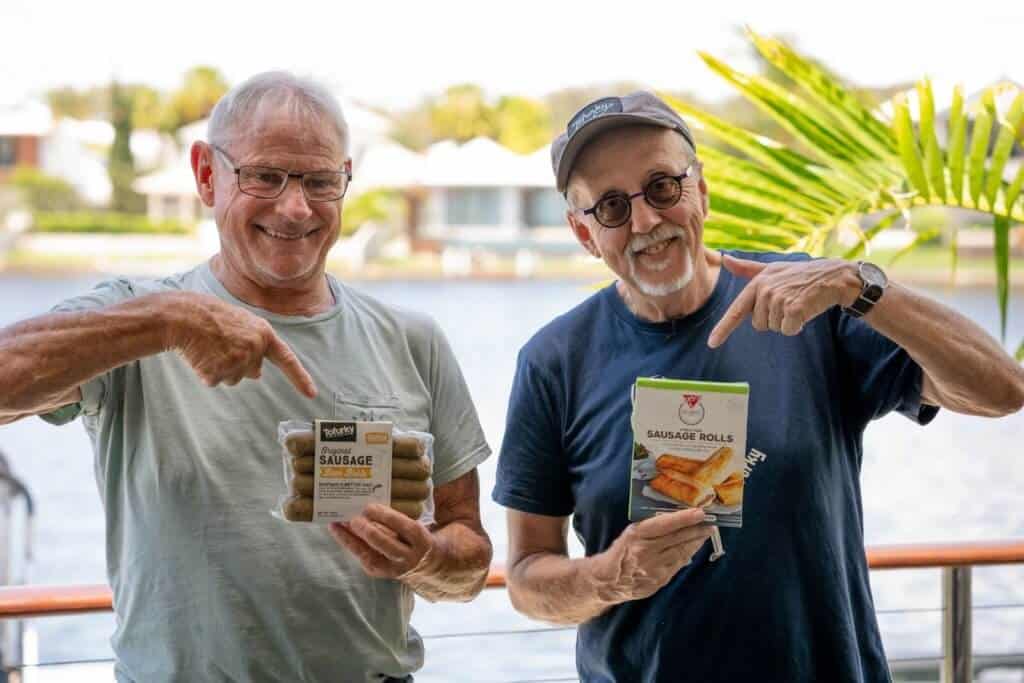 4. Eva Sommer, co-founder of Peace of Meat, nominates Vego Chocolate
"In difficult times like during the COVID-19 pandemic, there is one thing that always enlightens the monochrome routine: Vego chocolate. As a chocoholic, I have tried all types of vegan chocolates around the world and Vego is by far the most delicious vegan chocolate bar. Made of finest Italian chocolate, whole hazelnuts, I love how smoothly the chocolate bar melts. All ingredients in their chocolates -there is also a white almond chocolate bar, a crunchy chocolate spread and nougat pralines in their product line- are fair trade, organic and gluten-free."
Click here to support Peace of Meat. Click here to support Vego.
5. Scott McCulloch, co-founder of TheVeganKind, loves Vevolution
"The community feel around Vevolution is something that should be treasured. While veganism and plant based living have grown in the last few years, there were certain businesses and organisations that truly helped pave the way. At TheVeganKind we like to think we have played our small part in helping the movement grow – but we know we are one cog in the wheel. Vevolution has played a vital part in keeping all us businesses connected, motivated and involved as part of a bigger picture. They have also helped a lot of startups to raise their profile and give their brand the kick start it often needs. Vevolution events are well-organised, informative and bring the best of the vegan community together."
Click here to support TheVeganKind. Click here to support Vevolution.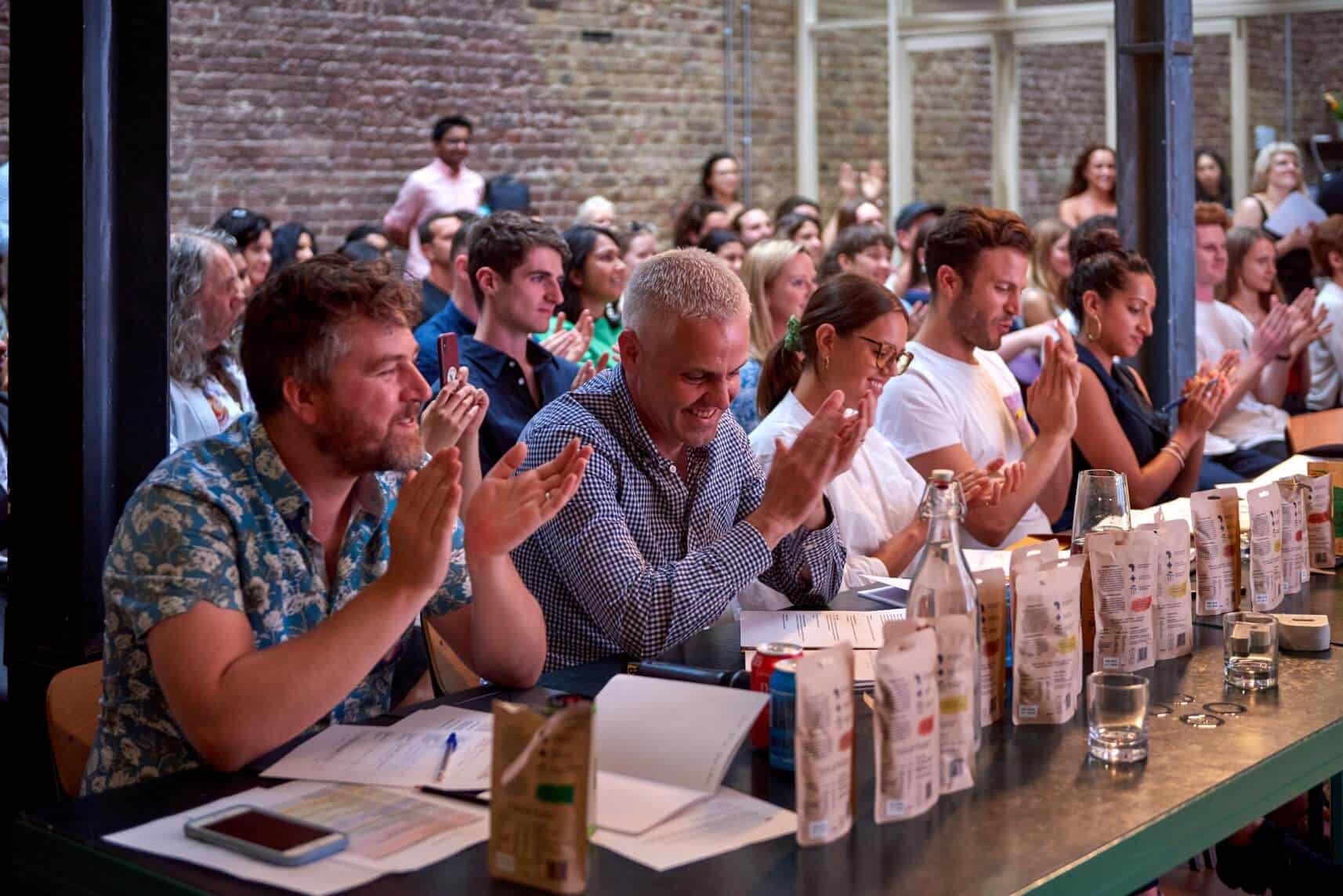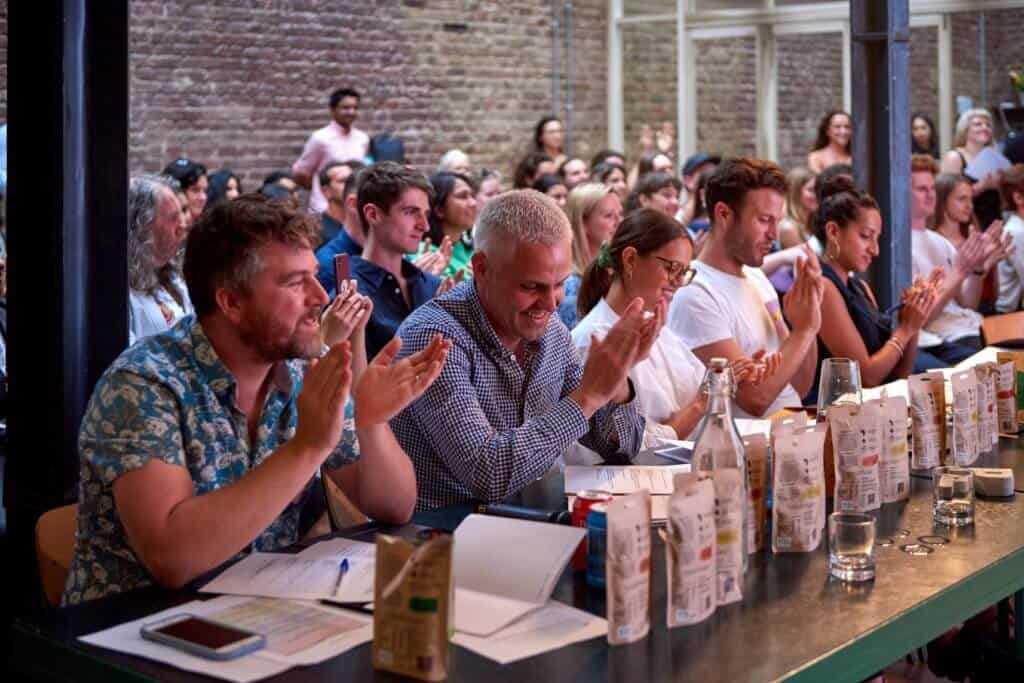 6. Vegan Investor Willem Blom supports Jack Bean
"A nice example is of plant-based restaurant chain Jack Bean, a campaign I also endorse. I respect the brand because it makes healthy, local, nutritional plant based meals that are affordable too. The founders Mathijs and Pepijn are super committed and mission-driven. And the food is delicious. They had just opened their second restaurant as well as a detached kitchen to supply for future additional locations when covid-19 hit. Although the restaurants are now closed, they kept a positive mindset and pulled off a donation campaign and have already supplied 1500 meals to healthcare workers at hospitals in Rotterdam."
Click here to learn more about Willem Blom. Click here to support Jack Bean.
7. Jim and Lori Amos, founders of Scout 22, nominate
Piñatex
"We'd like to nominate Piñatex, the London-based producer of handbags, shoes, wallets, watch bands, and car seats made from pineapple leaf fiber. We love this company and one of the main things we admire about them is that their products are made from the waste leaves of the pineapple plant and the raw materials therefore require absolutely no additional environmental resources to produce. Fashion companies are realizing that they simply cannot sustain their unethical and environmentally-unfriendly ways they've been doing business for hundreds of years and Pinatex, whose material you can find in over 1,000 brands around the globe, are one of the leaders in the sustainable fashion movement."
Click here to find out about Scout 22. Click here to support Piñatex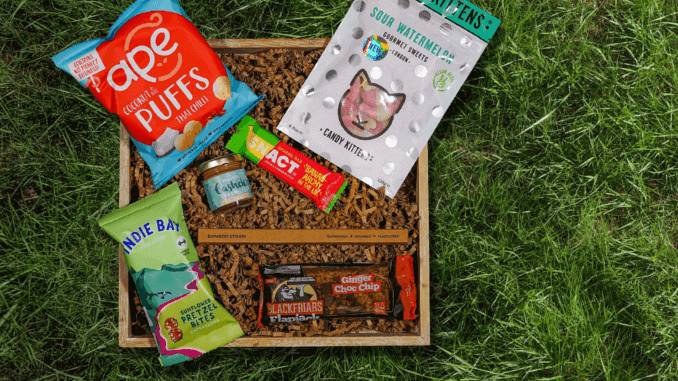 8. Amanda Thomson, founder of Thomson & Scott Wines, nominates TheVeganKind
"Our friends at TheVeganKind have created a one-stop shop for everything you might need – and it's all vegan friendly! You can browse their range from beauty products to booze, safe in the knowledge that no animal products have been used. As if this weren't enough, they offer great value 'lifestyle' and 'beauty' subscription boxes and donate money to a different animal charity every month. Check them out and you'll see why we love them."
Click here to support Thomson & Scott wines. Click here to support TheVeganKind
9. Elysabeth Alfano, host of the Plant-Based Business Hour, simply can't choose just one…
"I have so many favorite vegan businesses. It is truly hard to pick just one. I love Tofurky Sausages for getting me through my early days of veganism and for forging the way decades ago so that I can now spread veganism freely to vegans and flexitarians alike on my Awesome Vegans and Plantbased Business Hour (featured on vegconomist) Interview Series. I love Lightlife for their tempeh which is the base of so many of my plant-based meats sauces. However, the product that I can't live without at the moment is Lavva Yogurt. Rich and with a slightly bitter tang, it tastes like healthy decadence every time. Purely delicious. More please."
10. The founders of the International Vegan Film Festival love Zengarry
At the International Vegan Film Festival two things sit at the top of our list—vegan movies and vegan food—and we just can't get enough of Zengarry, an award-winning vegan cashew cheese company from right here in Canada. The company, who makes a full line of creamy, cultured cashew cheese wheels, is the brainchild of Lynda Turner who began experimenting with cashew cheese recipes in her own kitchen and decided to take the leap, leaving her safe government scientist job to become a full-time cheeseologist. Seven years later, her cheese can be found in over 400 retail and health food stores across Canada.
Click here to support The International Vegan Film Festival. Click here to support Zengarry.