Unlike real leather, vegan leather refers to leather-like materials that do not contain any animal-derived components. In most cases, alternative leathers are either made from natural materials, or plastic-based materials.
The vegan leather market of 2022 has a broad collection of vegan leathers made with all kinds of plant based materials, including wine leather, mushroom leather, cactus leather, and pineapple leather.
Read More...
While the modern sustainable designer is already implementing vegan fabrics into its fashion collections, not all designers are followers of the vegan leather movement. In particular high-fashion brands and their designers often view real leather as a symbol of luxury and status.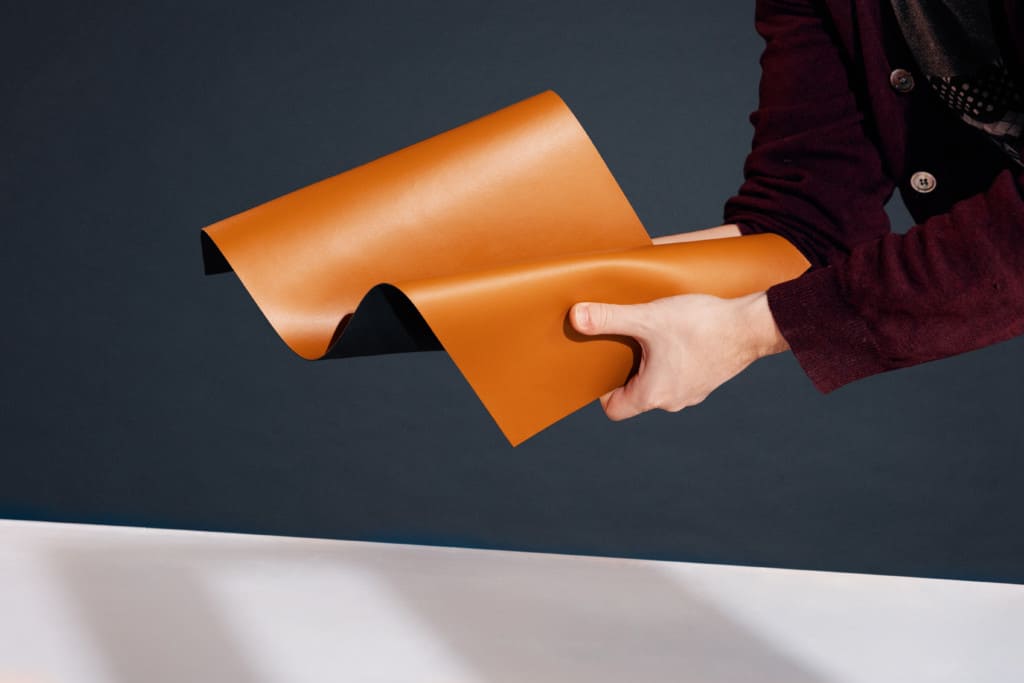 However, in recent years vegan leather has reached the mainstream, as many consumers demand sustainable alternatives to real leather. After all, real leather has one of the highest environmental impacts among fashion materials, while most vegan leather options are not only cruelty-free, but also significantly more sustainable.
The traditional leather industry
Even in the year 2022, the leather industry is claiming to be a "sustainable", "biodegradable", and "circular" business sector, ignoring that traditional leather largely originates from industrial animal agriculture.
In fact, the environmental impact of animal based leather is higher than from any other leather-like material used in fashion, including polyurethane-based leather. Producing real leather is undeniably linked to animal agriculture, which itself is one of the leading causes of global warming.
As reputation and sustainability performance of real leather ages badly in the light of fake leather product innovations, leather made from animal skins should no longer be the standard when talking about leather material.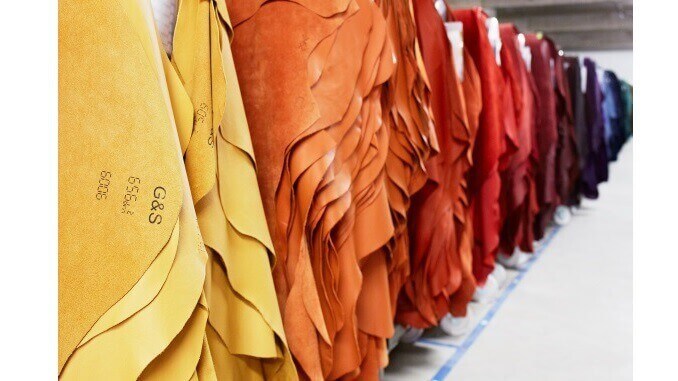 How toxic is the leather industry?
In the past, there have been many reports about the toxic behavior of the dairy and meat industry towards the plant-based sector. Unfortunately, the real leather industry is no exception, as it fires against vegan leather products and disputes the existence of sustainable and good quality vegan leather.
One of the real leather industry's chief criticisms of vegan leathers is that they often contain plastics derived from fossil fuels. However, apart from having the highest environmental impact in leather materials, other issues surrounding real leather, such as animal welfare and toxic chemicals that are used in the tanning process, turn animal leather into a much worse option regarding sustainability performance.
Moreover, the tanning and dyeing process in the production of real leather is widely associated with risks for workers to develop cancer due to chemical exposure and leather dust.
Given these facts connected to the production of animal leather, leather products based on actual animal skin can not be seen as part of the sustainable fashion movement. Even if the term vegan leather does not automatically indicate it is a sustainable vegan leather option, it definitely outperforms animal leather in terms of overall sustainability performance.
Can animal leather be sustainable?
Large leather manufacturers often promote their products as sustainable and biodegradable, but can genuine leather really be sustainable? Linked to the fact that animal leather has the highest environmental impact among all materials used in fashion, it is important to emphasize that biodegradable and sustainable are not the same thing.
Indeed, real leather can be biodegradable, as the animal hides that are being used are biodegradable. Although every animal leather can be composted, the degradation is likely to be impaired due to the tanning chemistry used in the production process.
An organization within the real leather business that is dedicted to improving traceability and sustainability performance of animal leather is the Leather Working Group. Founded as a not-for-profit organization, the Leather Working Group is reponsible for the world's leading environmental certification for real leather manufacturers.
However, despite the efforts of the Leather Working Group to improve environmental and social performance by reducing the amount of toxic chemicals used in the tanning process of real leather, it does not make animal skin wearable with a clean conscience regarding animal welfare and the general issues connected to animal agriculture.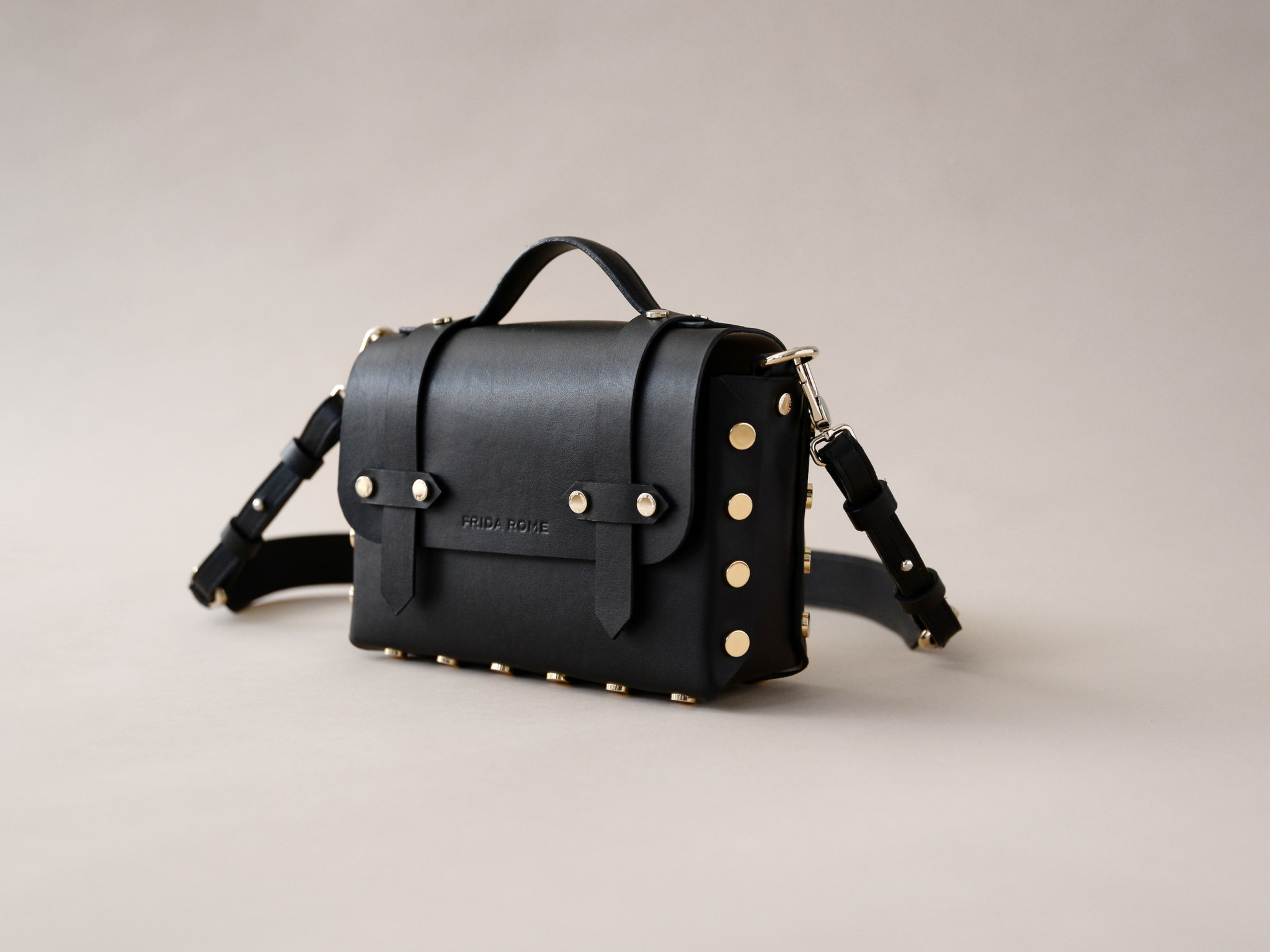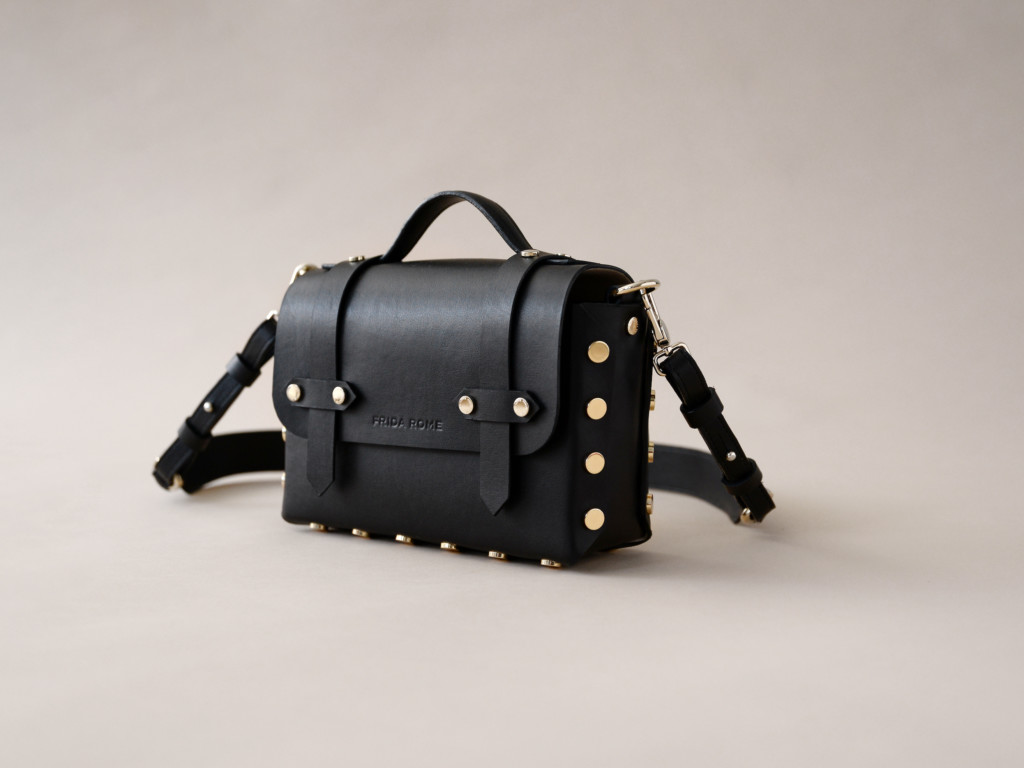 The ban of vegan leathers
In February of 2022, a ban on the term 'vegan leather' and other plant-based prefixes has been announced in Portugal. Alt leather companies now using prefixes such as 'vegan', 'plant-based', or 'pineapple' or even "synthetic" along with the word "leather" in their product marketing may face fines and criminal proceedings.
Portugal has a thriving fashion and textiles industry, with many high-quality fashion products and accessoires for the European market being produced in the country. Companies like vegan leather shoes manufacturer B_Boheme are part of the local vegan leather business. To them, the reason given for the ban, namely that consumers could be misled by terms like vegan leather, is just an excuse by major industry representatives to slow down the vegan leather revolution.
Vegan leather brands
While real leather is always made from the skin of animals, there are various options in the case of vegan leather production. Within the vegan leather market, vegan leather options made from mushrooms, cells, or wine waste are just as common, as vegan leather made from apple peels.
Many international fashion brands are collaborating with vegan leather companies to show their commitment towards ethical and responsible business methods, which include the ethical threatment of animals. For instance, international fashion giant H&M has announced a partnership with wine leather producer Vega to launch handbag straps and shoes in 2020.
Moreover, French shoe brand CAVAL, widely known for its range of mismatched sneakers, announced the launch of sustainable shoes made partially of Pellemela, a recycled material made from apple peels.
Other noteworthy vegan leather brands include next-generation material company Polybion. Based in Spain and Mexico, the company is developing its biotextile Celium®, an alternative to leather "designed with nature and manufactured with biology."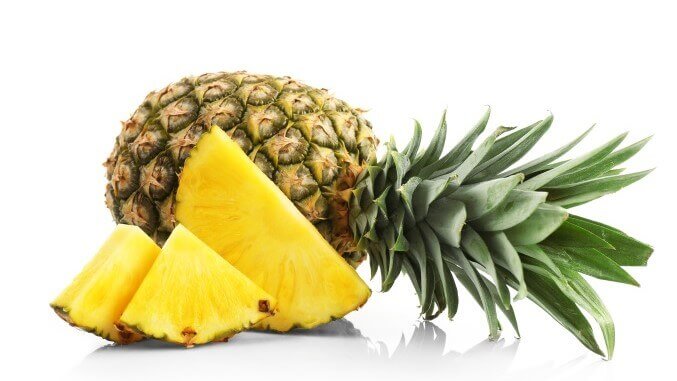 Piñatex, the most sustainable vegan leather commercially available
Back in 2021, London-based B-Corp Ananas Anam just celebrated the fifth anniversary of the commercialization of its revolutionary vegan leather Piñatex material. Made from waste pineapple leaf fiber, the brand claims that Piñatex is the most sustainable vegan leather commercially available at scale today. Threfore, Piñatex is the vegan leather of choice for hundreds of vegan and sustainable fashion brands and has been used by global lifestyle brands such as Nike, H&M, Hugo Boss, Paul Smith and more.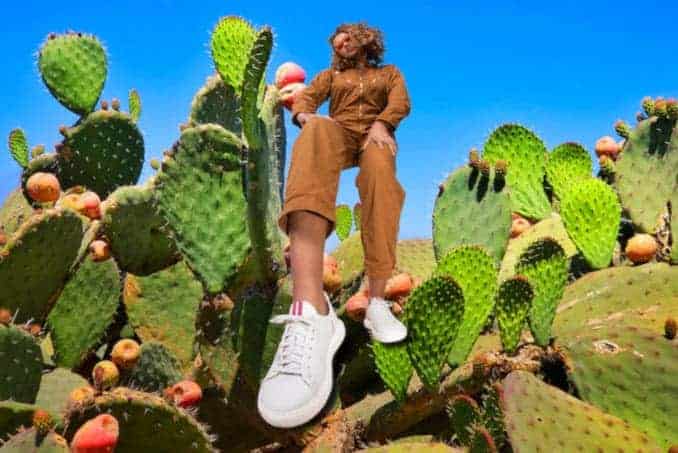 Desserto, vegan leather made from cacti
Mexican cactus-based leather company Desserto first launched its cactus leather in August of 2020 after two years of research and development. Unlike many vegan leather alternatives, the cactus leather made by Desserto does not contain polyurethane or any kind of plastic.
Synthetic leather and fake leather
Fake leather, also known as synthetic leather, is a petroleum-based leather alternative. Animal leather and faux leather are both high-quality materials and share many desirable attributes, like water-resisdence and a soft touch.
Does vegan leather contain toxic chemicals?
Some synthetic leathers have an unpleasant smell that is often described as a "fishy" vegan leather smell. The reason behind this is a toxic chemical called dimethylformamide (DMFa) that is commonly used in the production of synthetic plastic leather. A big problem that is connected to the use of DMFa is the negative health effects it may has on humans, including liver damage and infertility.
A major breakthrough was achieved in 2014, when the first water-based solution, ready to replace DMFa, was introduced. Three years later, another alternative to DMFa was developed, a solvent-free technology whose only byproduct is carbon dioxide.
Since 2017, faux leather manufacturers can choose between two solutions in order to avoid toxic chemicals and the unpleasant vegan leather smell that goes along with it. Fortunately, the faux leather industry has changed a lot since then.
For instance, in China, one of the main production locations to manufacture faux leather, has increased production of water-based faux leather by 600%, while the production of non-solvent faux leather rose by 460%, as reported by chemsec Marketplace.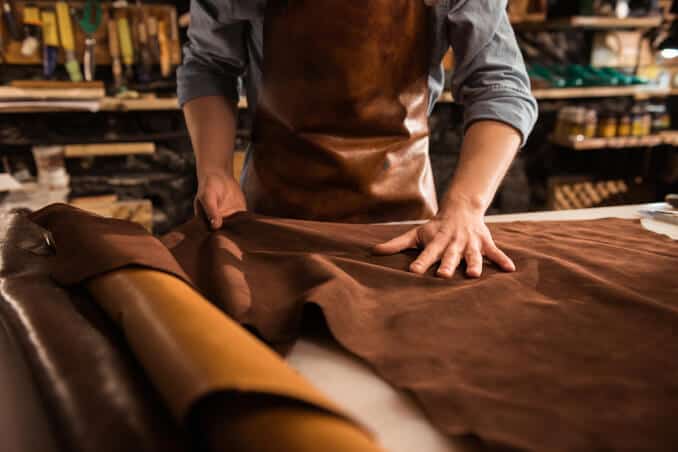 Industry rethinks vegan faux leather
As of 2022, most faux leather companies that market their products as vegan leather use either water-based or non-solvent solutions in the supply chain of their vegan leather products.
In terms of sustainability and animal welfare, vegan faux leather is therefore a good choice, especially since the accusation that the material causes health hazards is no longer true for most of the new products coming onto the market in 2022.
Is vegan leather good for the environment?
Unlike real leather, which has the highest envionmental impact among all materials used in the fashion industry, most vegan leather materials have a comparatively good sustainability index.
However, there are many ways to make vegan leather, so not all vegan leather has the same impact on the environment. While synthetic leathers are often criticized for contributing towards micro plastic pollution, vegan leather made with biodegradable materials is widely seen as the most environmentally-friendly vegan leather.
Biodegradable vegan leather
While a growing number of consumers are choosing to avoid conventional leather for ethical and environmental reasons, there are also concerns about the fact that synthetic vegan leather is made from plastics. Especially regarding the issue of micro plastic pollution, many consumers are demanding a vegan material that is free from any plastics.
Despite the encouraging news that vegan leather is gaining market share and entering the mainstream, most vegan leather alternatives available on the market today are not biodegradable.
As discussed in the last section, faux leather products are a good alternative to real leather derived from animal skin. However, in a future where a circular economy is developing into the norm, a product made from plastic is not the most viable option.
Thus, it is important to support the production of biodegradable leather alternatives in the long run to further accelerate vegan innovations and make vegan leather sustainable to an even higher degree.
Making vegan leather biodegradable in respond to demand
Responding to the high demand for biodegradable vegan leather, companies are developing biodegradable vegan leather alternatives using everything from mushroom to cacti. According to a market report from 2021, the global market for bio-based leather is expected to expand with a huge CAGR of 47.5% between 2021 and 2027.
Startups and companies in the biodegradable vegan leather space are mainly focused on designing, marketing, and manufacturing vegan, plastic-free leather-like materials and foams for the fashion and automotive industries.
According to a paper from 2022, the bio-based vegan leather material Bioleather1 produces 80% fewer greenhouse gas emissions than bovine leather and 20% fewer than PU-based faux leather materials. Additionally, the bio-based leather reduces blue water use, land use, and eutrophication by 95% compared to conventional leather.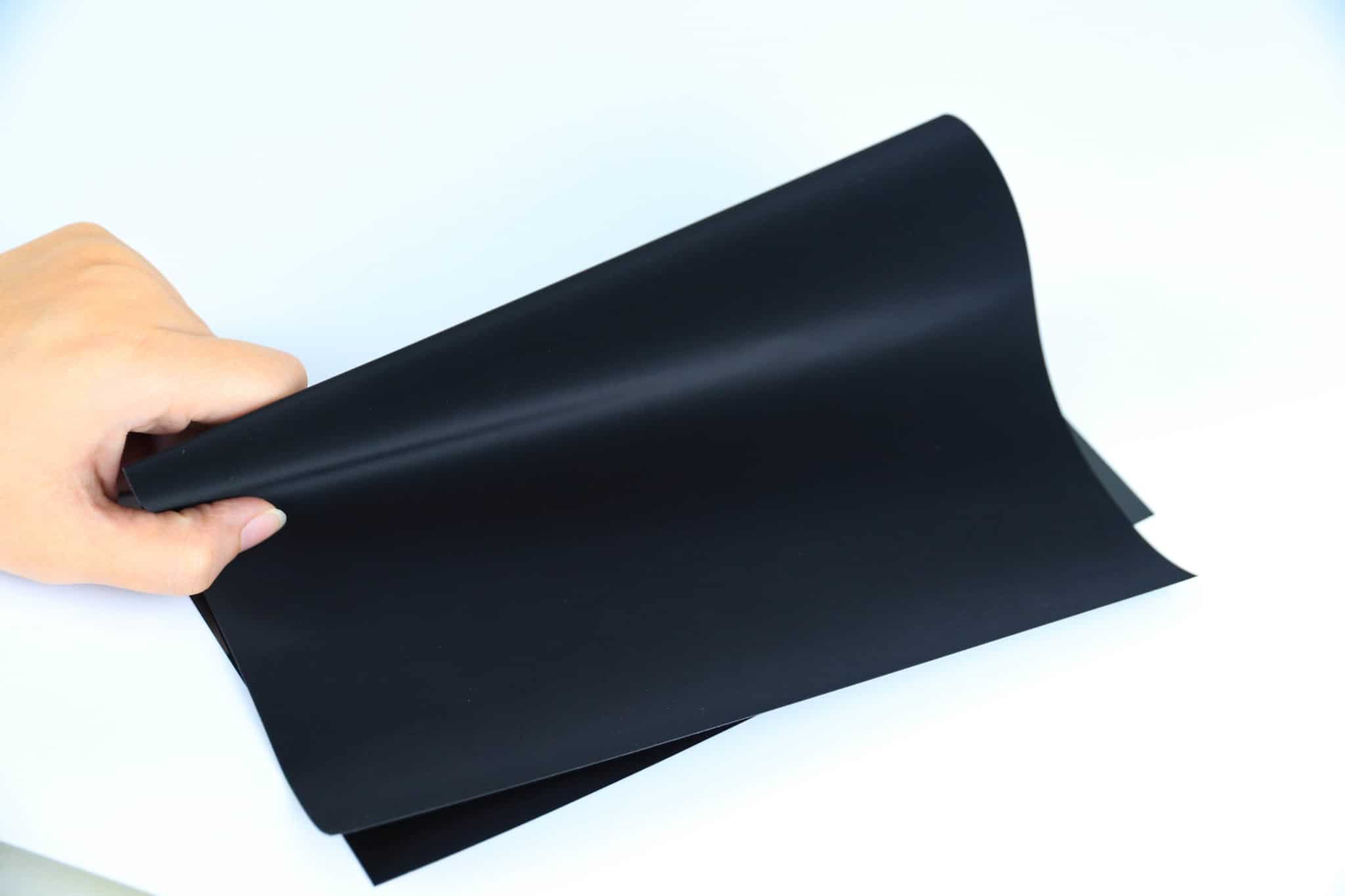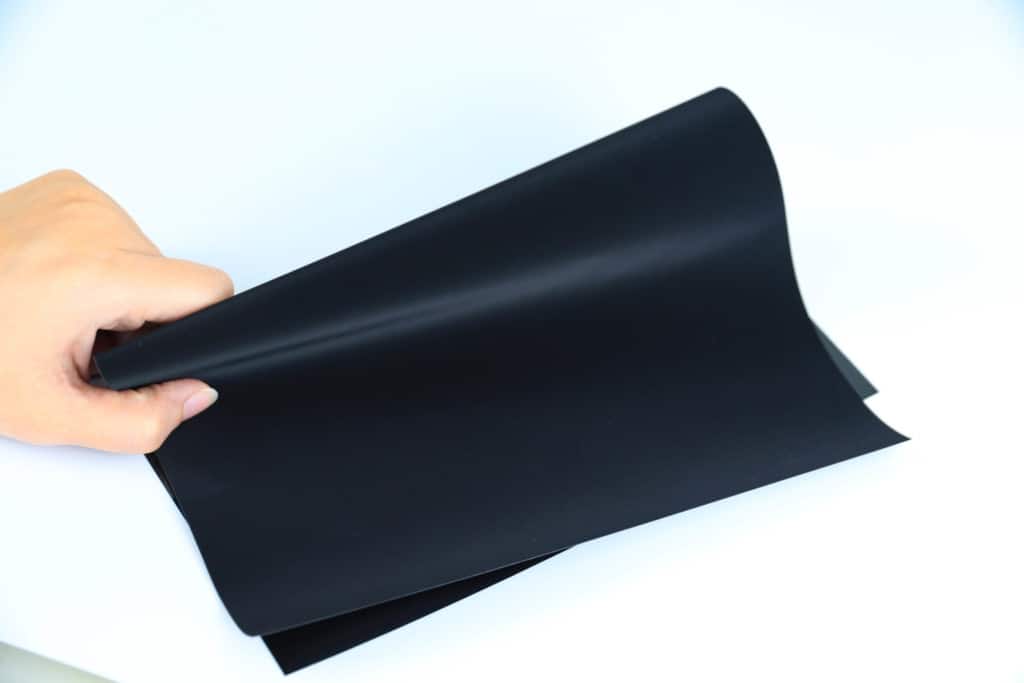 Is biodegradable leather commercially available?
Today, very few vegan leathers are biodegradable and even fewer are commercially available. Among the first commercially available vegan leathers are the bio-based sustainable leather alternatives by the San Franciso-based biomaterials company MycoWorks.
Back in January 2022, the startup MycoWorks announced it has raised $125 million to open a full-scale mushroom leather production plant. According to MycoWorks, they transform mycelium, the underground root structure of fungi, into materials that rival real leather and synthetic materials in look, feel, aesthetics and performance.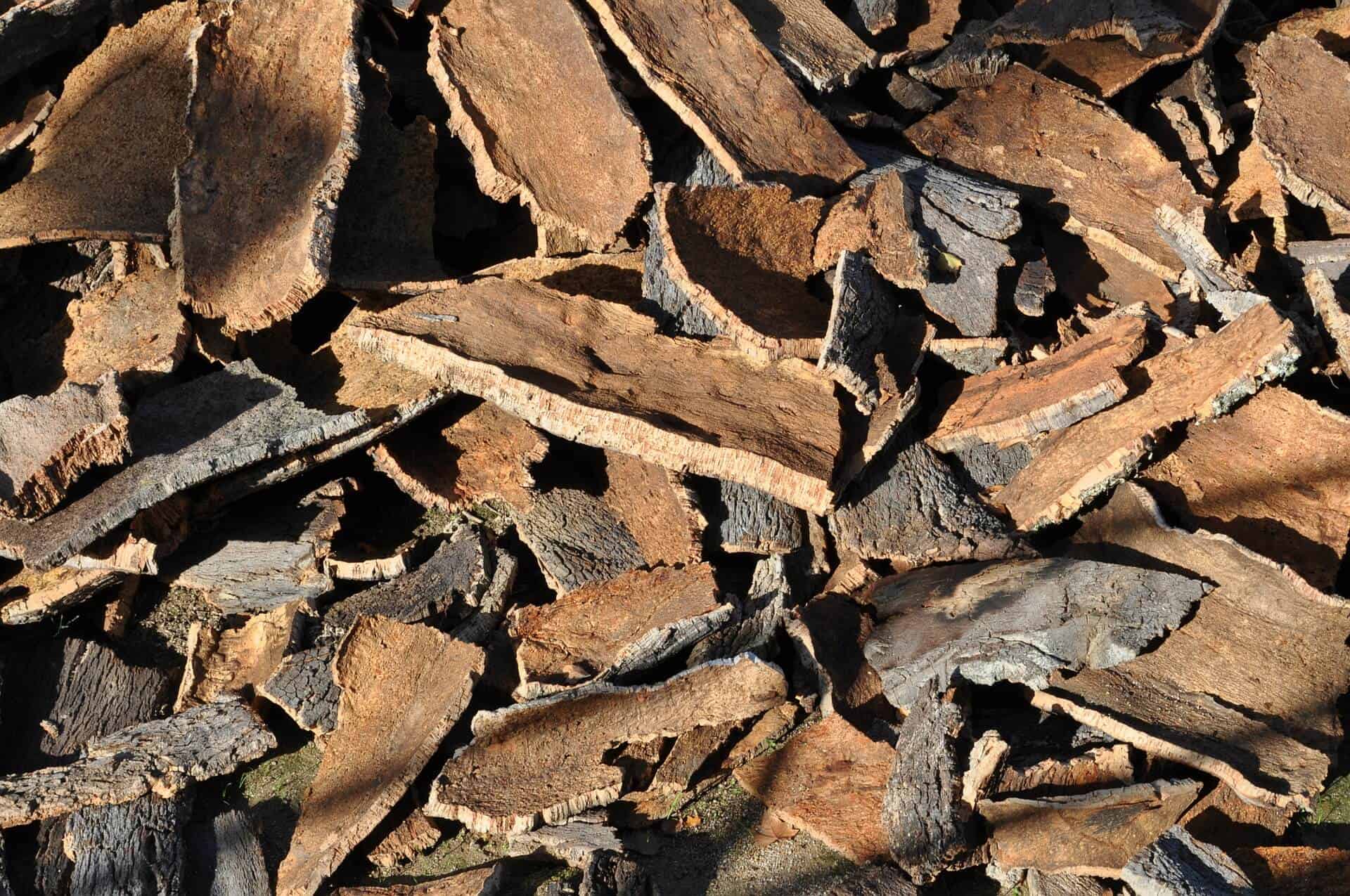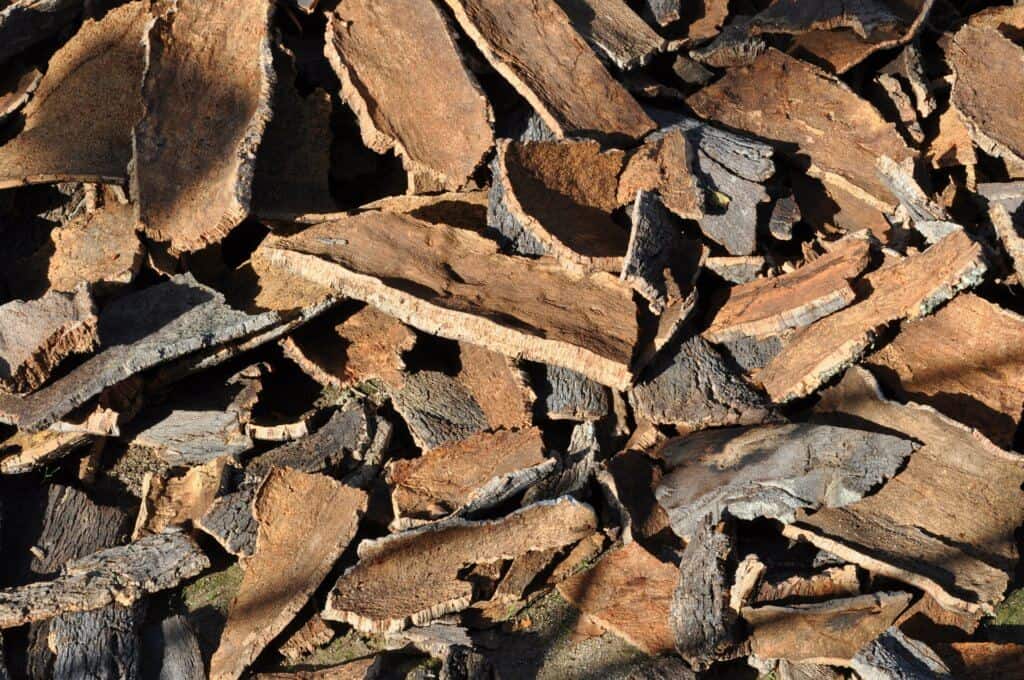 Does vegan leather from cork meet the sustainability criteria?
Cork leather is made from the bark of Cork Oaks, which are growing in the Mediterranean pat of Europe. Mainly produced in Portugal, cork leather is flexible, soft, and often referred to as the most environmentally friendly vegan leather on the market.
While cork leather is widely used for fashion accessoires, including wallets, purses, and bags, it is not commonly used for fashion items. In 2015, german ethical fashion brand bleed developed the world's first vegan leather jacked made with cork leather.
However, due to the complicated manufacturing process, cork leather has not yet become established as a material for vegan leather jackets and other garments on a larger scale.
Vegan Leather without plastic based materials should be the standard
Founded in 2015 on the premise that our planet is too dependent on petroleum-based products, including pvc leather and pu leather, Natural Fiber Welding is looking to disrupt the plastic and synthetics industries.
NFW produces Mirum, an alternative to synthetic leather made from plants. Thereby, Mirum is setting new sustainability and circularity standards for the leather industry. Mirum is completely free from any plastic material.
While other vegan leather-like materials contain petroleum-based plastics like polyurethane (PU) and polyvinyl chloride (PVC), Mirum wants to implement a new definition and standard for the term vegan leather.
As of 2022, many vegan leather products are marketed as "plant-based," but they also contain plastics like polyurethane and polyvinyl chloride. NFW believes the term vegan leather should mean "plants" not "plastic."
Next generation of vegan leather is biodegradable
Although most vegan leather that are availale in large quantities contain synthetic materials, various companies and startups are currently developing biodegradable alternatives to shape the next generation of vegan leather alternatives.
By 2030, it is likely that most vegan leather is made biodegradable, containing natural materials to produce vegan boots, vegan purses, vegan shoes, vegan leather jackets, and other common leather products. While real leather will continue to lose in relevance, the category of vegan leather made from biodegradable materials might dominate the vegan leather category.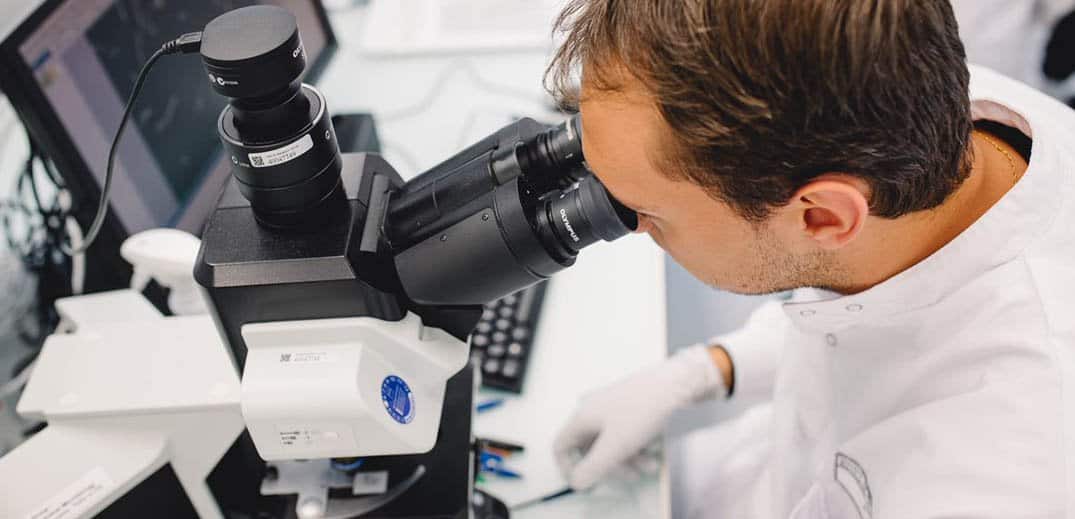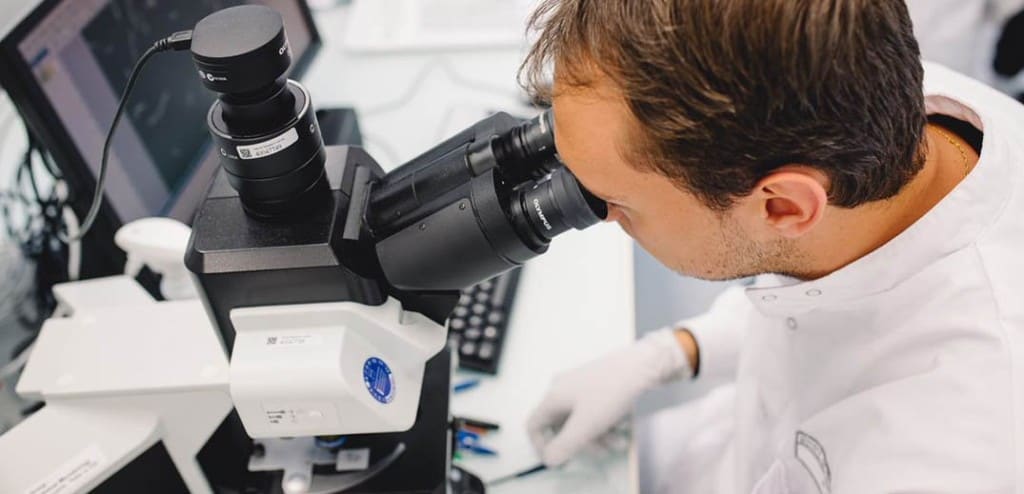 Cell-cultured leather
Cellular agriculture offers enormous potential for the resource-efficient and sustainable production of meat and dairy products. Although the final products are stricly not vegan, they can be described as cruelty-free and have the potential to save many animals lives in the future.
Founded in 2014, Dutch biotech company Qorium is focused on the development of cell-cultured leather. In July of 2021, the company has raised €2.6 million to allow it to scale up its cell-cultured leather production technology.
According to the cell-cultured leather pioneer, its cell-cultured leather takes 99% less water and 66% less energy to produce compared to real leather. It further eliminates the need for the first two phases of the leather tanning process. Since only a few bovine skin cells are required to produce the leather, the methane emissions produced by livestock could be vastly reduced.
Vegconomist is reporting on vegan politics news and has readers in over 160 countries worldwide. If you want to join our vegan business community, you can subscribe to our newsletter here. You can decide yourself how often you want to receive news into your inbox.