Pectin was first discovered in fruits over 200 years ago. However, the possibility of using it in food production was only recognized at the beginning of the 20th century. Pectin is a natural fibre, which is found in apples along with citrus fruits such as oranges, lemons and limes. This makes it a purely plant-based product and perfectly suited for vegan applications — it is used for texturizing and as a gelling agent, thickener or stabilizer.
In many application areas, pectin can complement or even replace other texturizing ingredients, such as gelatine in fruit gums, marshmallows and panna cotta. As a complementary ingredient, pectin with starch can effectively combine the technological advantages of both stabilizers and generate additional benefits in bakeable fruit fillings or gummy confectionery. In fruit yoghurt preparations, this positive effect can also be achieved with pectin in combination with carob bean gum.
H&F apple and citrus pectins offer functional and sensory benefits in various products:
• Milk alternatives
• Plant-based yoghurt alternatives to eat and drink
• Vegan gummy confectionery
• Jams and fruit spreads
• Bakeable fruit preparations for baked goods
• Vegan delicatessen products and delicatessen sauces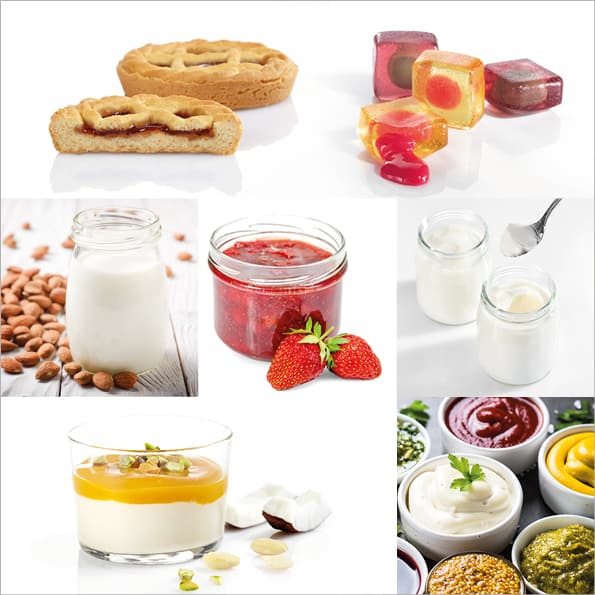 Herbstreith & Fox offers a wide range of high-quality pectins derived primarily from apple pomace and citrus peels. In order to ensure the highest possible quality and purity, the production process used to extract the pectin from fruit requires a great deal of experience and careful handling.
The ultimate decision as to which pectin is used is dictated primarily by the specific requirements of the end product. The experienced application engineers in the H&F team will support you in finding the perfect product solution — just ask us!
For more information, see: https://www.herbstreith-fox.de/en/
Contact: [email protected]