Dairy-free cheese brand GOOD PLANeT Foods announces it is launching innovative new Snack Packs with plant-based cheese, fruit and nuts. Featuring two flavors, the Snack Packs will debut online and in grocery stores in October.
"With snacking continuing to grow quickly in the USA, our new Snack Packs are a delicious, healthy, and satiating alternative"
Made with clean ingredients such as coconut oil and plant starches, the product's flavors include Smoked Gouda with Dried Cranberries and Almonds, and Cheddar with Dried Cranberries and Cashews. As with all GOOD PLANeT offerings, the Snack Packs are non-GMO and allergen-friendly, with no gluten, soy, or lactose. Each pack retails for a suggested price of $1.99 each.
According to GOOD PLANeT, the packs are part of the brand's drive to increase growth in the plant-based cheese segment.
Snack innovations
In addition to Snack Packs, GOOD PLANeT sells a wide variety of dairy-free cheeses, including a variety of Slices and Shreds. In 2021, the company unveiled 'first-to-market' snackable vegan cheese triangles in Original, Pepper Jack and Smoked Gouda flavors, followed by a novel smoked cheese wheel in March.
The company, whose products can be found in over 1,200 US retail locations, raised $12M in Series A funding in 2020.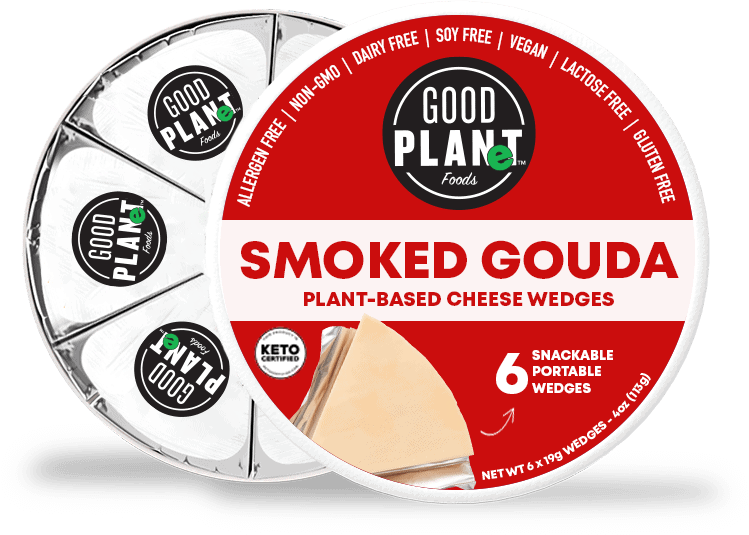 The "joy of cheese"
"As the demand for plant-based cheese continues to grow, consumers have been vocal about not having enough quality options," said GOOD PLANeT Foods Co-CEO Bart Adlam. "At GOOD PLANeT Foods, we are constantly looking for ways to bring the joy of cheese to more consumers who are looking for ways to eat more plant-based foods."
He added, "With snacking continuing to grow quickly in the USA, our new Snack Packs are a delicious, healthy, and satiating alternative. We are committed to growing the plant-based cheese segment and confident that this innovation will bring new consumers and eating occasions to the segment."