The Impossible Burger makes its East Coast grocery store debut today in seven states at all 100 Wegmans grocery stores, and two Fairway Markett outlets in Manhattan. Last week's West Coast launch outsold meat-based ground beef and set all-time sales records based on both revenue and the total number of pounds sold. The vegan burger was the No. 1 packaged good sold at Gelson's throughout the weekend across all 27 stores.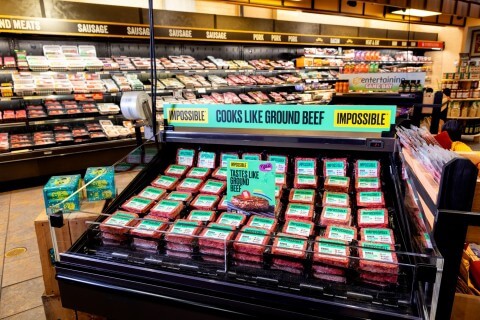 "The Impossible Burger generated more excitement than any other single product we've seen in more than a half-century of operations," said Gelson's Markets CEO Rob McDougall. "In addition to exceptional sales and volume, the launch initiated a historic consumer reaction from both our loyal and new customers who were thrilled to play a part in the future of food. We look forward to the continued success of our relationship with Impossible Foods."
Today's East Coast debut will quintuple the number of retail outlets that sell the Impossible Burger. Impossible Foods is increasing the production and capacity at its Oakland, California plant, and with co-manufacturer OSI Group through the fourth quarter and into early 2020 in anticipation of future launches in key regions in the US. 
"Three years ago we introduced plant-based meat to the world in Manhattan at Momofuku Nishi, where Chef David Chang said the Impossible Burger blew him away," said Impossible Foods' CEO and Founder Dr. Patrick O. Brown. "Now all home chefs in the Northeast can experience their own 'David Chang moment' in their own kitchens — and accelerate the inevitable consumer movement toward plant-based food."