UK bakery chain Greggs has launched two new plant-based options — the Vegan Southern Fried Chicken Baguette and the Bean and CheeZe Toastie.
The first option is a meatless version of one of Greggs' classic sandwiches. It features a crunchy baguette with plant-based chicken goujons, vegan cheddar slices, red onion, and chipotle sauce. The toastie is a simple sandwich containing baked beans and grated vegan cheese.
Additionally, the chicken-free goujons featured in the baguette will be available as a separate menu option from September 15. They consist of plant-based chicken pieces coated in spiced southern-fried breadcrumbs.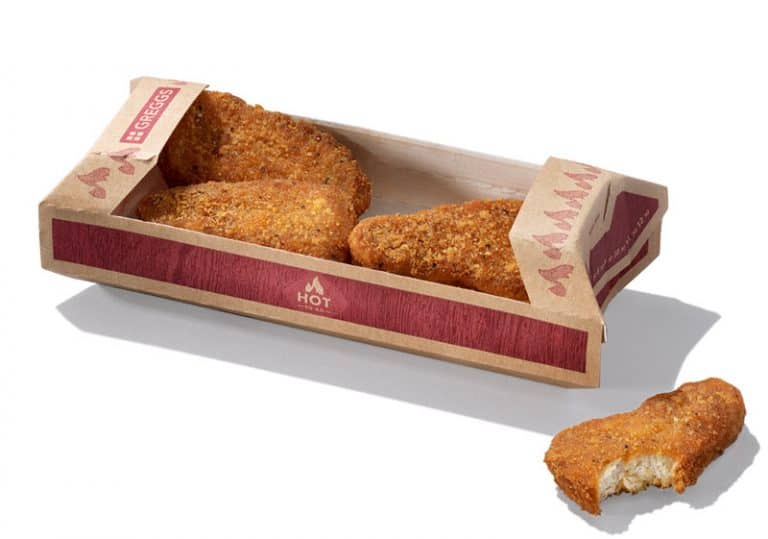 Vegan options by Greggs
Greggs launched its first vegan option — a sausage roll — in 2019. The product was a huge success, helping the chain's previously stagnant sales to top £1 billion.
Subsequently, Greggs decided to develop more vegan options, including a steak bake, doughnuts, and a sausage, bean, and cheese melt. Last Christmas, the chain offered a plant-based version of its Festive Bake, containing Quorn and vegan bacon crumb alongside the classic stuffing balls and cranberry sauce.
Greggs also opened an Eco-Shop earlier this summer in order to trial various sustainability initiatives.
"We're delighted to have launched our first Eco-Shop, in line with our Greggs Pledge and Net Zero commitments. As a responsible business, we have a duty to our customers and to our planet to change the world for the better," said Greggs property director Tony Rowson.